AMSOIL offers the industry's most comprehensive line of synthetic products for two- and four-stroke engines in motorcycles, ATV's, snowmobiles, outboard/marine, personal watercraft, small engines and much more.
Four-Stroke Motorcycle/ATV/Snowmobile/Marine Engine Oils

The widely acclaimed choice for V-Twin owners and other rides requiring a 20W-50. Suitable for use in engines, transmissions and primary chaincases. Provides cooler operation, smother shifting and outstanding wear protection. One of AMSOIL's most popular products.
This kit contains 4 US-quarts of AMSOIL Synthetic 20W-50 V-Twin Motorcycle Oil, a chrome or black AMSOIL EaOM134C Oil Filter and an O-ring for the drain plug.



Contains 5 US-quarts of AMSOIL Synthetic 20W-50 V-Twin Motorcycle Oil, a chrome or black AMSOIL EaOM134C Oil Filter and an O-ring for the drain plug.


Nothing improves the shifting of a motorcycle like a good synthetic transmission oil. This premium synthetic gearbox oil for V-Twins will tone down clunks and noises, while improving the way your bike shifts. A tremendous upgrade for any Harley, Indian or Triumph motorcycle with a separate gearbox.


Upgrade your Harley Davidson, Triumph or pre-2013 Indian motorcycle with this 100% synthetic primary oil. Provides smooth operation, excellent clutch performance and the ultimate in control.


The high performance choice for engine/transmission service for any motorcycle requiring a 10W-40. A very robust formula makes this oil extended drain capable. It's perfectly at home on the town or on professional road racing circuits.
Excellent for any motorcycle engine/transmission requiring a 10W-30. Withstands the rigors of high RPM and extreme operating temps. Enjoy smooth shifting, great performance and extreme wear protection.

A full-synthetic 15W-50 for street, dual purpose, dirt and adventure bikes. Ideal for motorcycles from BMW, Ducati, KTM , Yamaha and Royal Enfield. Provides world-class protection and performance at a reasonable price.

For ATV's/UTV's, four-stroke snowmobiles and much more. Delivers outstanding performance in any climate imaginable. Wet-clutch compatible for transmission service as well. Replaces 0W-30, 0W-40, 5W-30, 10W-30 and 10W-40 engine oils for a multitude of manufacturers.
Synthetic Dirt Bike Oil- 10W-40, 10W-50 or 10W-60
A full synthetic series for 4-stroke dirt bikes, motocrossers or even street bikes. Designed to preserve clutches under the extreme loads of mud, sand, heat and racing. Also protects engine and transmissions while optimizing power output. Prevents DNF's and allows for maximum performance. Available in 10W-40, 10W-50 or 10W-60.

A professional-grade synthetic transmission oil for dirt bike, motocross, enduro, trail and supermoto use. Ideal for all 2-stroke bike and Honda CRF 4-strokes that have a separate transmission fluid. Provides the ultimate gear and clutch wear protection while improving gear shifts.
The ultimate oil for Victory and late-model Indian Motorcycles. Improves engines and shifting performance while providing industry-leading protection against heat and wear.  Ideal for any motorcycle requiring a 20W-40 oil.


For Indian Scout models and Victory motorcycle engine/transmission. Provides excellent shifting and engine performance. Protect your ride with this world-class synthetic formula. Safe for catalytic converters.


For Harley-Davidson® Knucklehead, Panhead, Shovelhead and other big-bore motorcycles requiring an SAE 60 oil. Excellent for engine, transmission and chaincase. Shear stable protection against heat, wear and friction.

A full-synthetic 4-stroke engine oil that is built for serious protection and performance. Ideal for any ATV or Side By Side that requires a 10W-40 including models from Can-Am, Honda, John Deere, Kawasaki, Kubota, Suzuki, Yamaha and more.


A 100% synthetic engine oil for Polaris ATV's and Side By Sides. This product replaces Pure Polaris PS-4 5W-50, PS-4 Plus and PS-4 Extreme Duty 10W-50 motor oil. The ultimate oil for strong, long-lasting wear protection in Polaris 4-stroke models.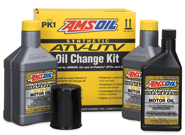 AMSOIL offers three oil change kit options covering most all Polaris ATV and UTV models. These kits contain AMSOIL Synthetic 5W-50 ATV-UTV Motor Oil and an oil filter. Enjoy the convenience, all-season protection and world-class AMSOIL performance for your next oil change.


A full-synthetic 75W-90 fluid for the transmissions and differentials of ATVs, UTV's and Side By Sides including models from Can-Am, Honda, Kawasaki, Polaris, Suzuki, Yamaha. Also suitable for diffs requiring the API GL-5 specification. Replaces Polaris Angle Drive Fluid and Polaris AGL Full Synthetic Gearcase and Transmission Fluid.



A single product for Polaris transmissions, differentials and Demand Drive systems. Replaces both Polaris Demand Drive Fluid and Polaris AGL Synthetic Gearcase and Transmission Fluid. Provides a performance and protection upgrade for for most drive-train components in Polaris ATV'sand UTV's.

Ideal for any brand of small engine requiring a 5W-30 or SAE 30 engine oil. Provides tough wear control and  corrosion prevention. Suitable for summer and winter use in gasoline, liquid-propane, natural gas or diesel-powered engines.


Commercial-grade synthetic 10W-30/SAE30 formulation for gasoline, liquid-propane, natural gas or diesel small engines. Suitable for a wide range of applications for contractors, lawn/garden professionals and homeowners. Can be used in wide range of equipment. Formulated with to withstand extreme abuse and is extend-service capable.


Ideal for the professional or home-owner. This full synthetic 10W-40 can be used in gasoline, liquid-propane, natural gas or diesel-powered utility engines. Protects against wear and extreme heat over long service intervals.


4-Stroke Marine Engine Oils
For four-stroke outboard, inboard, inboard/outboard and personal watercraft. Exceeds the NMMA "FC-W Catalyst Compatible" specification and meets the warranty requirements of most all major manufacturers. Superior protection against engine wear and rust.

Optimize the efficiency and performance of your scooter's engine and transmission. Protect your investment with an outstanding oil.
A joint effort between Briggs and AMSOIL has produced the ultimate 4-stroke small engine racing oil. Resists the ravages of extreme heat, foaming and shear-down while maximizing horsepower output. Now available in Canada.


Two-Stroke Engine Oils
A legend on the snowmobile trails. Also a strong performer in motorcycles, ATV's and personal watercraft. Interceptor's high detergent content allows for exceptionally clean variable exhaust power valve operation. Low smoke, low wear and outstanding cold weather performance has contributed to Interceptor's immense popularity. For applications requiring API TC. Injector or 50:1 premix.

AMSOIL's premium 2-stroke oil for outboard/marine engines including direct fuel injected (DFI) models. Delivers clean, smooth operation and low aquatic toxicity. Excels in Evinrude® E-TEC™ factory-lean setting (replaces Evinrude XD100™ 2-Cycle Oil). Injector use or 50:1 premix. For applications requiring NMMA TC-W3. Injector or 50:1 premix.

AMSOIL's entry-level synthetic 2-stroke oil. Suitable for snowmobile, outboard and personal watercraft use. Offers versatility, synthetic performance and protection at a great price. For applications requiring API TC or NMMA TC-W3. Injector or 50:1 premix.


For racing and modified, high-output two-stoke engines. A robust formulation and high film strength combats heat and heavy loads. Burns clean and reduces friction. For applications requiring API TC. Injector or 50:1 premix.

For chain saws, trimmers, leaf blowers, etc. Exceptional film strength allows you to safely keep one mix for all engines. High temp detergent package allows for low smoke/odor and prevention of carbon depositing. For commercial or home/garden use.


For pre-mix in outboard engines. Low temperature dispersant package prevents carbon and deposits in water cooled engines. Low smoke and aquatic toxicity. Designed to perform and protect for extended periods of trolling or full throttle. For applications requiring NMMA TC-W3. Sold in USA only.


Chaincase Lubricant
Offers extreme pressure protection in both extreme cold and heat. Extends component life in either snowmobiles or ATV's. Repels moisture and resists foaming and rust. Also reduces friction for optimum performance. All this with a lower price tag compared to most OEM synthetic chaincase lubes. Now comes with extendable spout for easy installation.