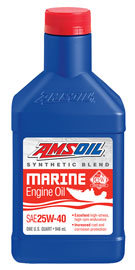 For 4-stroke Mercury and Mercruiser outboard, inboard and stern drive engines that require 25W-40 motor oil. NMMA FC-W "Catalyst Compatible" licensed.
Package sizes include: 1- US Quart Bottle 1- US Quart Bottles (case of 12) 55- US Gallon Drum
We can offer AMSOIL Synthetic-Blend 25W-40 Marine Oil at the lowest prices in Canada or the US. Request a wholesale price list using the contact form on this page.
Suitable Applications For AMSOIL Synthetic-Blend 25W-40 Marine Oil
This product is a high quality replacement for Mercury Synthetic-Blend SAE 25W-40 Marine Engine Oil.
Recommended for any gasoline-powered 4-stroke Mercury or Mercruiser outboard, inboard or stern drive motor where 25W-40 engine oil is suggested. Can be used in either catalyzed or non-catalyzed engines. For older Mercruiser/GM engines with flat tappet camshafts, see here. This product meets the following specifications.
NMMA FC-W Catalyst Compatible (Registration Number: FC-11825T)
API SM
Features of AMSOIL Synthetic-Blend 25W-40 Marine Oil
Withstands long periods of high RPM
Resists viscosity breakdown
Contains strong rust and corrosion inhibitors
Capable of long service intervals
Formulated for warranty compliance
Service Life Of AMSOIL Synthetic-Blend 25W-40 Marine Oil
Outboard Engines and Personal Watercraft
Change at intervals as suggested by your owner's manual. Change oil filter at every oil change.
Inboard and Stern Drive
Change once per year or at twice the interval as suggested by Mercury (whichever comes first).
Mixing AMSOIL Synthetic-Blend 25W-40 Marine Oil With Other Brands
AMSOIL Synthetic-Blend 25W-40 Marine Oil is compatible with all other brands of conventional, semi-synthetic and synthetic engine oils. While you can safely mix this AMSOIL product with other brands, this will reduce its drain interval and performance capabilities.
The use of any aftermarket oil additives is definitely not recommended.
Specifications

AMSOIL Synthetic-Blend SAE 25W-40 Marine Synthetic Marine Oil (WCM)

Kinematic Viscosity @ 100°C, cSt (ASTM D-445)
16.0
Kinematic Viscosity @ 40°C, cSt (ASTM D-445)
139.3
Viscosity Index (ASTM D-2270)
121
Flash Point °C (°F) (ASTM D 92)
254 (489)
Fire Point °C (°F) (ASTM D 92)
284 (543)
Pour Point °C (°F) (ASTM D 97)
-31 (-24)
Noack Volatility, % weight loss (g/100g) (ASTM D-5800)
3.1%
Four Ball Wear Test (ASTM D 4172)
0.40
Total Base Number (ASTM D-2896)
7.9
High-Shear Viscosity @ 150ºC, 1.0 x 106 s-1, cP (ASTM D4683)
4.8