Featuring an ultra-efficient synthetic nanofiber media. Efficient to 98.7% at 20 microns as opposed to 40 to 80% efficiency with conventional cellulose filter media from other brands. Ea oil filters are built to withstand 25,000 or 15,000 miles of service (depending on the application).
---

A separate add-on oil filtration kit that removes wear particles down to one micron! The ultra-fine filtration dramatically extends oil change intervals and engine life. Increases oil capacity and improves oil cooling. Keeps engine oil clean on a constant basis. Can be fitted to most gasoline & diesel engines.
---
A nanofiber synthetic media makes these units the most efficient motorcycle oil filters available at 98.7% at 20 microns. Also featured are premium nitrile gaskets and anti-drain-back valves. These filters are "top shelf" in every sense of the term. All models are available in "black" with several units being available with an optional chrome finish.
---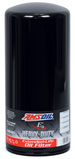 For heavy-duty applications such as over-the-road-trucks, buses, tractors, mining and construction equipment. The full synthetic Ea media delivers extraordinary efficiency of 98.7 percent at 20 microns while offering offering high contaminant capacity. Quality construction and no-compromise components throughout.
---

Every WIX filter is the sum of many decades of industry experience. WIX offers quality oil, air, cabin air, fuel, transmission, crankcase breather and racing filters.
---

We offer Mann filters for many European auto and motorcycle applications. Mann delivers OEM-quality oil, air, fuel and cabin filters.
---

We offer Donaldson filters for heavy-duty and industrial applications. Donaldson is the world's biggest supplier of OEM filters for diesel applications. Featured is the elite Endurance series of air and oil filters. The workhorse line is the P-Series of oil, air, fuel, hydraulic and coolant filters.
---
For Ford 6.0 and 6.4 litre Power Stroke diesel engines. Synthetic filter media offers unsurpassed efficiency and service life. Filtering efficiency of 98.7% at 15 microns. Service life is 15000 miles (24000 km) or one year.
---

For GM Duramax 6.6L Diesel, GM H2 Hummer 6.0L Vortec™ and selected Freightliner and John Deere applications. Featuring an innovative fluted media.
---
We offer a oil filter cap wrenches for most all AMSOIL EAOM Motorcycle Oil Filters.