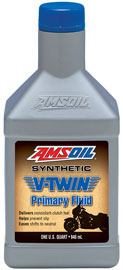 This full-synthetic Primary Chaincase Oil is ideal for Harley Davidson, Indian motorcycles (made before 2013) and Triumph motorcycles. Suitable for stock or aftermarket clutches. Delivers smooth performance, improved wear control and cooler operation. Allows for easier shifts into neutral.
AMSOIL Primary Chaincase Oil Package Sizes:
Single US Quart Bottles
Case of 12 US Quart Bottles
Looking for prices? We can't publish AMSOIL's wholesale prices. Request a wholesale price list using the contact form on this page.
V-Twin motorcycle owners often ask for an oil specifically designed for primary chaincases and AMSOIL was listening. This 100% synthetic primary oil delivers the performance and protection that you expect from AMSOIL synthetic motorcycle oils.
Related: Our Harley-Davidson And Synthetic Oil Article Compilation Page
Suitable Applications For AMSOIL V-Twin Synthetic Primary Chaincase Oil
This product can be used in the primary chaincases of the following motorcycle models:
Harley-Davidson (all model years)
Triumph
Indian motorcycles built before the 2013 model year
An Ideal Substitute for the Following Motorcycle Primary Chaincase Oils
Harley-Davidson Formula Plus Transmission and Primary Chaincase Lube
Drag Specialties Primary Oil
Klotz Techniplate Primary Chain Case Lubricant
Lucas Primary Chaincase Oil
Milwaukee Twins Primary Oil
Red Line V-Twin Synthetic Primary Chaincase Oil
RevTech Primary Lube
Torco V-Series Primary Chaincase
Twin Power Primary Chain Case Lubricant
Spectro Heavy-Duty Primary Chaincase Oil
Should I Use AMSOIL V-Twin Primary Oil Or 20W-50 In My Primary Chaincase?
You can use either product with outstanding results. Many Harley-Davidson owners prefer to use AMSOIL 20W-50 Synthetic Motorcycle Oil for the convenience of a single product in the engine, transmission and primary chaincase. AMSOIL V-Twin 20W-50 is designed to provide the utmost performance and protection in all three components, so this is 100% acceptable. Many prefer the idea of using this dedicated primary fluid. The performance and protection of either option is identical so there is really no wrong choice.
Dependable Clutch Engagement
AMSOIL V-Twin Synthetic Primary Chaincase Oil is formulated to optimize clutch operation. Expect improved clutch operation as you ease away from standing starts. This product also prevents clutch slippage during hard acceleration and under exceptionally hot operating temperatures. This product is compatible with aftermarket Kevlar clutch plates.
Protects Against Metal-to-Metal Wear
Powerful wear control ingredients prolong the life of chains, gears and bearings. A shear-stable synthetic base oil maintains consistent viscosity over long mileage and heavy operation. Therefore,  chaincase components last longer.
Provides Cooler Primary Chaincase Temperatures
The hallmark of all AMSOIL V-Twin products is the ability to not only withstand hot operating conditions, but to actually promote cooler operation. This chaincase oil also resists thinning out under hot conditions, so protection is never compromised.
Mixing AMSOIL V-Twin Synthetic Primary Chaincase Oil With Other Brands
AMSOIL V-Twin Synthetic Primary Chaincase Oil is compatible with other brands of conventional, semi-synthetic and synthetic primary chaincase fluid. While you can safely mix AMSOIL Primary Chaincase Oil with other brands, this will reduce the drain interval and performance capabilities of this product.
Service Life of AMSOIL V-Twin Synthetic Primary Chaincase Oil
AMSOIL Synthetic Primary Chaincase Oil should be changed every 10,000 miles (16,000 km) or once per season (whichever comes first).
Specifications

AMSOIL V-Twin Synthetic Primary Chaincase Oil (MVP)

Viscosity
SAE 90
Kinematic Viscosity @ 100°C, cSt (ASTM D-445)
18.7
Kinematic Viscosity @ 40°C, cSt (ASTM D-445)
147.1
Viscosity Index (ASTM D-2270)
144
Pour Point °C (°F) (ASTM D-97)
-37 (-35)
Flash Point °C (°F) (ASTM D-92)
244 (471)
Fire Point °C (°F) (ASTM D-92)
256 (493)
Four Ball Wear Test (ASTM D4172 @ 40 kgf, 150°C, 1800 rpm, 1 hour), Scar, mm
0.39
JASO T-904 Friction Test
MA/MA2 Pass