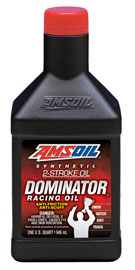 Dominator is designed exclusively for racing or highly modified liquid-cooled or air-cooled 2-stroke engines. The high film strength and abundant additive package withstands extreme operating temperatures, high RPM and heavy loads. This select synthetic formula also lowers friction for maximum power output and throttle response. Dominator Two-Stroke Oil is compatible with racing fuels and suitable for oil injections systems or premix at ratios up to 50:1.
Dominator is NOT suitable for recreational use in stock (or close to stock) engines. As only the hot operating temperatures of racing engines will fully burn Dominator two-stoke oil, excessive deposit formation could occur when used in non-racing engines.
Which AMSOIL 2-Cycle Oil is Right for Me?
 Dominator Racing Synthetic 2-Stroke Oil package sizes include: 1-Quart Bottle (or buy case of 12 quarts) 1-US Gallon Bottle (or buy case of 4 gallons) 16-Gallon Keg 30-Gallon Drum 55-Gallon Drum  
Suitable Applications for AMSOIL Dominator Synthetic 2-Stroke Racing Oil
AMSOIL Dominator Synthetic 2-Stroke Racing Oil is designed for racing or highly modified engines only. It can be mixed with pump gas or high-octane racing fuel. Dominator is not compatible with alcohol fuel or nitro-methane fuel.
Dominator is suitable for the following air or liquid-cooled racing 2-cycle engines:
Motocross racing engines
Snowmobile racing engines
Racing kart engines
Racing personal watercraft engines
Important: Stock recreational engines may not completely utilize Dominator's additive package and excessive depositing could be the result. Do not use Dominator in outboard engines requiring an oil with the NMMA TC-W3 specification unless the engine is used for racing purposes and is torn down regularly.
Article: Should I Use AMSOIL Interceptor or Dominator 2-Stroke Oil?
Maximum Wear Protection
Racing two-stroke engines that are pushed to the limit simply will not tolerate second-rate two-stroke oil. Not for long that is. AMSOIL Dominator uses a synthetic base oil that is slightly higher in viscosity and a heavy-duty additive package to withstand heavy shock loads and ultra-high RPM. The result is reduced wear on piston rings, cylinders bores, wrist pins and bearings. Dominator is the exact formula used by AMSOIL's corporately sponsored Snocross team.
Maximum Power Output
Dominator doesn't just play defense. When you hit the throttle, you want instant response and an engine that can perform to its full potential. Dominator Synthetic Two-Stoke Racing Oil's elite formula lowers friction to deliver maximum power output, while keeping heat and friction at bay until the checkered flag falls.
Reduces Deposits and Power Valve Sticking
Dominator Two-Stroke Racing Oil's 100% synthetic formula prevents deposit formation and allows variable exhaust power valves to stay clean. A clean two-stroke engine delivers maximum power output and requires less maintenance.
Cold Weather Performance
Dominator will withstand the hottest of operating temperatures, but on the flip side it also flows very well in arctic conditions. It possesses a cold-pour point of -51°C (-60°F), so you'll have oil flow and engine protection in every imaginable climate.
Directions For Use of AMSOIL Dominator Synthetic 2-Stroke Racing
AMSOIL Dominator Synthetic 2-Stroke Racing Oil can be used in either oil injection systems or as a premix at recommended ratio of 50:1 (2.6 ounces of oil per US Gallon of gasoline or 20 milliliters of oil per litre of gasoline).
Can You Mix AMSOIL Dominator Synthetic 2-Stroke Racing with Other 2-Stroke Oils?
While Dominator Synthetic 2-Stroke Racing is compatible with most other brands of conventional, synthetic-blend and synthetic two-stroke oil, for best results it is recommended that mixing Dominator with other brands of oil is kept at a minimum.
Specifications
AMSOIL Dominator Synthetic 2-Stroke Racing Oil

Kinematic Viscosity @ 100°C, cSt (ASTM D-445)

7.0

Kinematic Viscosity @ 40°C, cSt (ASTM D-445)

35.2
Viscosity Index (ASTM D-2270)
166

Pour Point °C (°F) (ASTM D 97)

-54 (-65)

Flash Point °C (°F) (ASTM D 92)

94 (201)
Fire Point °C (°F) (ASTM D 92)
94 (201)
DANGER: harmful or fatal if swallowed. Contains synthetic lubricant and petroleum distillates. If swallowed do not induce vomiting. Contact a physician immediately. Keep away from fire, heat and open flame. Use with adequate ventilation. Avoid frequent or prolonged skin contact. Flush eyes with water for 15 minutes in case of contact. KEEP OUT OF REACH OF CHILDREN.