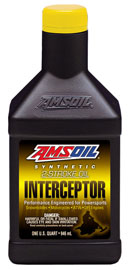 The standard  for today's snowmobiles including Ski-Doo®/Rotax® E-TEC™ engines. Now meets JASO FD specification. 

Package sizes include: 1-Quart Bottle (or buy case of 12) 1-Gallon Bottle (or buy case of 4) 16-Gallon Keg 30-Gallon Drum 55-Gallon Drum    
Which 2-Cycle Oil is Right for Me?
The Ultimate Snowmobile Oil Cross Reference Guide
Buy AMSOIL Interceptor Synthetic 2-Stroke Oil at wholesale in Canada and the USA! Request a price list using the contact form on this page. We ship Interceptor from 2 warehouses in Canada and 11 in the United States.
The benchmark for high-performance two-strokes, including DFI engines. Not only is Interceptor AMSOIL's most popular snowmobile oil, it is also an outstanding injection or premix oil for two-stroke Sea-Doo, motorcycles and jet boats in hard recreational use.
AMSOIL Interceptor is a high-quality replacement for the following OEM snowmobile oils.
Ski-Doo XPS 2T E-ETC Synthetic Oil
Arctic Cat C-TEC2 Synthetic 2-Cycle Oil and Arctic Cat APV Synthetic 2-Stroke Oil
Polaris VES Full-Synthetic 2-Stroke Oil and Polaris VES Extreme Full-Synthetic 2-Stroke Oil
Of the dozens of AMSOIL products that Oildepot sells, Interceptor Synthetic 2-Cycle Oil generates some of the highest volume of customer feedback. All of the feedback is positive and this happens season after season. Of course customers love the wear control, clean power valves, improved throttle response and low-smoke operation. They especially love the fact that Interceptor's elite formula is available to them at a better price than most synthetic oils offered by the snowmobile makers. They also report better performance over the OEM-branded 2-stroke oils too.
Interceptor is not just 2-stroke oil; it is a cost-effective performance upgrade and a significant one at that. Try AMSOIL Interceptor in your sled this season and see why thousands of snowmobilers across North America will use nothing else.
About AMSOIL Interceptor
AMSOIL Interceptor Synthetic 2-Cycle Oil is specifically formulated to inhibit exhaust power valve gumming, ring sticking and engine wear in high-performance powersports applications. It contains synthetic base oils that decrease friction, increase throttle response and provide exceptional wear protection for pistons, cylinders and bearings. Its robust additive package provides superior overall cleanliness properties in both air- and liquid-cooled engines and in hot-operating direct-fuel-injected (DFI) engines. Interceptor is compatible with most all 2-cycle oils and most makes and models of two-cycle powersports equipment where the API TC, JASO FD or ISO-L-EGC spec is suggested.
What Benefits Can You Expect from AMSOIL Interceptor?
Lower price, but higher performance over most OEM-branded synthetic two-stroke oils
Low-friction synthetic formula reduces wear and improves throttle response
Helps prevent hard carbon deposits on variable exhaust power valves
Low exhaust smoke
Outstanding cold temperature performance (flows down to -69°F!)
Excellent performance in fuel-efficient, low-emissions engines such as Ski-Doo®/Rotax® E-TEC™
Protects against internal rust during storage
Recommended for either oil injection systems or at 50:1 pre-mix ratios
Recommended for applications requiring the API TC, JASO FD and ISO-L-EGC performance specifications
Exceptional Engine Protection
Today's 2-stroke engines are designed to use less oil than ever and this can generate heat, wear and all-round hostile operating conditions. Interceptor's modern formula is designed to protect engines in the face of exceptional heat and heavy loads. Interceptor delivers low friction and extreme shear-strength that fights both hot operating temperatures and engine wear.
Clean Combustion Chamber and Exhaust Power Valve Formula
Interceptor is loaded with detergents and dispersants to keep variable exhaust power valves, combustion chambers and spark plugs clean and operating at peak efficiency all season long. Interceptor is prominent in the industry for its ability to keep engine internals clean, regardless of whether you are idling around the trails or climbing mountain sides at full throttle.
Flows Quickly In Extreme Cold
Fast oil flow is vital for oil-injected two-stroke engines. AMSOIL Interceptor flows down to -56°C or -69°F. You may not ride in these temperature extremes, but this means that your engine will receive instant oil delivery under normal winter conditions. The video below illustrates how Interceptor outperforms popular synthetic oils sold at your local snowmobile dealer.
Interceptor Excels in Ski-Doo/Rotax® E-TEC® Torture Testing
To prove that Interceptor was 100% suitable for use in the impressive Ski-Doo/Rotax E-TEC engines, AMSOIL performed extensive testing to demonstrate that their oil could prevent wear and operate free of deposits. Rotax E-TEC engines employ the latest two-stroke technology and are a veritable torture test for 2-stroke oil. What is different about E-TEC engines over previous generations of two-cycle engines is that they use extremely sophisticated electronics to precisely meter out the correct amount of fuel and oil at all times. Fuel is injected directly into the cylinders at high pressure and an astonishingly small amount of two-stroke oil is used over the course of a season. The result is a low-emissions engine that uses less fuel, but yet cranks out extremely high horsepower per cubic centimeter in a hot-running, lightweight package.
Because of the low amount of oil used in a high-output engine, not just any two-stroke oil is suitable. Oils appropriate for E-TEC engines have to be on their game in terms of wear protection and deposit control.
Applications
AMSOIL Interceptor Synthetic 2-Stroke Oil is suitable for all liquid-cooled or air-cooled two-stroke snowmobiles, motorcycles, ATVs, personal watercrafts requiring the API TC or JASO FD performance specification including the following:
Polaris®
Ski-Doo® (including Rotax® E-TEC® engines)
Arctic Cat®
Sea-Doo®/BRP® (API TC, JASO FD applications)
Honda®
Yamaha®
Kawasaki®
Suzuki®
Direct-fuel-injected (DFI), Electronic-fuel-injected (EFI) & Carbureted engines
For racing or highly modified applications, consider AMSOIL Dominator Synthetic Racing Two-Cycle Racing Oil.
Article: Should I Use AMSOIL Interceptor or Dominator 2-Stroke Oil?
This product is not suitable for ultralight engines or any other aviation purposes.
Directions for Use
Interceptor can be used in oil injection systems or as a premix. The recommended premix ratio is 50:1.
Can You Mix AMSOIL Interceptor with Other 2-Stroke Oils?
While AMSOIL Interceptor Synthetic 2-Cycle Oil is compatible with most other brands of conventional, synthetic-blend and synthetic two-stroke oil, for best results it is recommended that mixing Interceptor with other brands of oil is kept at a minimum.
Warranty
AMSOIL offers a limited warranty for current-model -year snowmobiles exclusively using Interceptor.  For more details, see AMSOIL Limited Snowmobile Warranty.
Specifications
Interceptor Synthetic 2-Cycle Oil

Kinematic Viscosity @ 100°C, cSt (ASTM D-445)

6.4

Kinematic Viscosity @ 40°C, cSt (ASTM D-445)

29.9

Viscosity Index (ASTM D-2270)

174

Pour Point °C (°F) (ASTM D 97)

-56 (-69)

Flash Point °C (°F) (ASTM D 92)

102 (216)

Fire Point °C (°F) (ASTM D 92)

102 (216)

SAE J1536 Fluidity/Miscibility Grade 4 Arctic Climate (17,000 cP max @ -40°C)

Pass

Engine Lubricity Test, mix ratio @ 150:1 (ASTM D 4863)

Pass

DANGER: harmful or fatal if swallowed. Contains synthetic lubricant and petroleum distillates. If swallowed do not induce vomiting. Contact a physician immediately. Keep away from fire, heat and open flame. Use with adequate ventilation. Avoid frequent or prolonged skin contact. Flush eyes with water for 15 minutes in case of contact. KEEP OUT OF REACH OF CHILDREN.