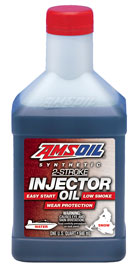 Suitable for snowmobiles OR outboards. AMSOIL 100% Synthetic 2-Stroke Injector Oil delivers AMSOIL quality at great price. For use in oil injection systems or pre-mix.
Package sizes include:
1-Quart Bottles (or buy case of 12)
1-Gallon Bottles (or buy case of 4)
16-Gallon Keg
30-Gallon Drum
55-Gallon Drum
275-Gallon Tote
Buy new AMSOIL "AIO" Synthetic 2-Stroke Injector Oil in Canada and the USA at wholesale prices. Request a price list using the contact form on this page.
For those who desire a budget-priced two-stroke oil for either snowmobile or outboard use. AIO's full-synthetic formula offers capable performance, protection and clean operation. For applications requiring either the API TC or NMMA TC-W3 specification. Buy just one two-stroke oil for all of your two-stroke toys with the quality you've come to expect from AMSOIL.
Features of AMSOIL Synthetic 2-Stroke Injector Oil
Economy-priced synthetic oil
Multi-functional: suitable for snowmobile, outboard engines or personal watercraft
Suitable for direct fuel-injected engines (DFI)
Reliable synthetic wear control
Low friction operation for improved throttle response
Clean power valve performance
Excellent for use in extreme cold or heat
Designed to resist rust and corrosion
Low smoke and low odor
Can be used in oil injection systems or premix
Two-Stroke Engine Defense
AMSOIL Full Synthetic 2-Stroke Injector Oil withstands all of the abuse that recreational two-strokes can dish out. The low-friction formula and powerful anti-wear additives keep engine internals protected from metal-to-metal contact.
Fights Deposits On Engine Internals And Power Valves
Clean operation is vital to both snowmobile and outboard engines. Snowmobiles are often equipped with variable exhaust power valves that if fouled, can dramatically reduce performance. Outboards can be susceptible to engine deposits that can ultimately lead to engine failure. AMSOIL "AIO" Synthetic 2-Stroke Injector Oil's clean-burning formula is loaded with detergents to keep snowmobile, personal watercraft or outboard engines running clean and at peak operation.
All-Climate Capable
Like all AMSOIL synthetic oils, temperature extremes are not an obstacle. AMSOIL AIO flows down to -53C (-63F), so there is instant start-up protection in all weather. On the other end of thermometer, AIO is designed to shrug off the extreme heat and heavy loads. Only a good synthetic oil can deliver equal protection in all weather.
Applications
AMSOIL Synthetic 2-Stroke Injector Oil is suitable for all liquid-cooled or air-cooled two-stroke snowmobiles, outboard engines, personal watercrafts. For applications requiring the API TC or NMMA TC-W3 performance specifications. Ideal for he following brands:
Polaris®
Ski-Doo®* (see below)
Arctic Cat®
Honda®
Yamaha®
Kawasaki®
Sea-Doo®
Suzuki®
Mariner®
Force®
Evinrude®** (see below)
Johnson®
Direct-fuel-injected (DFI), Electronic-fuel-injected (EFI) & Carbureted engines
*For Ski-Doo models with the Rotax® E-TEC® engines, use AMSOIL Interceptor Synthetic 2-Stroke Oil
**For Evinrude engines using the Evinrude® E-TEC™ factory-lean setting, use AMSOIL HP Marine Synthetic Two-Stroke Oil
Directions For Use
AMSOIL Synthetic Two-Stroke Injector Oil can be used in oil injection systems or as a premix. The recommended premix ratio is 50:1. Mix ratio is 2.56 US oz. of Injector Oil to 1 US gallon of gas or 75.7 ml of Injector Oil to 3.78L of gas.
Can You Mix AMSOIL Injector Oil With Other 2-Stroke Oils?
AMSOIL Synthetic 2-Cycle Injector Oil is compatible with most other brands of conventional, synthetic-blend and synthetic two-stroke oil. For best results it is recommended that mixing AMSOIL with other brands of oil is kept at a minimum.
Warranty
AMSOIL "AIO" Synthetic 2-Stroke Injector Oil is a quality replacement for OEM-branded 2-stroke oils and is covered by the AMSOIL Limited Warranty.
Specifications
AMSOIL Full Synthetic 2-Stroke Injector Oil

Kinematic Viscosity @ 100°C, cSt (ASTM D-445)
6.9
Kinematic Viscosity @ 40°C, cSt (ASTM D-445)
35.3
Viscosity Index (ASTM D-2270)
161
Pour Point °C (°F) (ASTM D 97)
-53 (-63)
Flash Point °C (°F) (ASTM D 92)
88 (191)
Fire Point °C (°F) (ASTM D 92)
88 (191)
SAE J1536 Fluidity/Miscibility Grade 4 Arctic Climate (17,000 cP max @ -40°C)
Pass