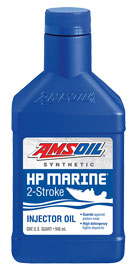 AMSOIL's premium synthetic 2-stoke oil for outboard motors and personal watercraft. Suitable for pre-mix or oil injections systems. HP Marine is designed to perform in any two-stroke marine engine, including today's lean-running models. HP Marine is an ideal replacement for Evinrude XD100 2-Cycle Oil and is a proven performer for Evinrude E-TEC engine's "factory-lean setting". Suitable for applications requiring the NMMA TC-W3 specification.
Package sizes include: Quart Bottles (or buy case of 12),  US Gallon Bottles (or buy case of 4), 16- US Gallon Keg, 30- US Gallon Drum, 55- US Gallon Drum  
Which AMSOIL 2-Cycle Oil is Right for Me?
AMSOIL HP Marine Features and Benefits
Ideal for DFI engines
Synthetic formula delivers optimum throttle response and output
Clean burning formula prevents engine depositing
Generates low smoke and odour
Low friction formula prevents wear for long engine life
Excellent for Evinrude E-TEC engine's "factory-lean setting"
Contains robust anti-rust/corrosion additives
Recommended for use as injection oil or at a 50:1 pre-mix
For dry land API TC applications, see Interceptor or AIO Injector Oil
Article: Can I Use AMSOIL HP Marine Synthetic 2-Stroke Oil in My Snowmobile?
Synthetic Wear Defence
In an effort to lower emissions and improve efficiency, today's 2-stroke marine engines consume less oil than ever. As less oil is used and leaner operating conditions are prevalent, the margin for error is slim. It is crucial to use a 2-cycle stroke oil that is designed to deliver tenacious film strength under heavy loads and hot operating conditions, even in Evinrude E-TEC engines with the lean-mix setting.
AMSOIL HP Marine Synthetic 2-Stroke Oil is designed to protect your engine from the most difficult operating conditions you can throw at it. The combination of high film strength, low friction, deposit resistance and rust prevention make for an unbeatable protection package that will keep your engine running its best for many seasons to come.
HP Marine Proven in Evinrude E-TEC Performance Test
AMSOIL tested HP Marine in a torturous real world study in the twin E-TEC engines of a marine towing boat. The test subjects were a set of 250 horsepower Evinrude engines converted to the "factory lean setting". One engine used AMSOIL HP Marine, while the other used Evinrude XD-100 oil. The outboard engines were then put to work for 500 hours and then torn down. The engine parts were evaluated by an independent test agency. The result was that AMSOIL HP Marine Injector Oil performed flawlessly in the E-TEC engine with the demanding factory lean setting. Read more about this testing in the articles below.
AMSOIL HP Marine/Evinrude E-TEC Lean-Mix Setting Field Study (1.20 MB PDF)
Article: AMSOIL HP Marine Excels in Evinrude E-TEC Lean-Mix Setting Field Test

Suitable Applications for AMSOIL HP Marine
AMSOIL HP Marine Synthetic 2-Stroke Oil is suitable for all two-stroke outboard engines and some personal watercraft where the NMMA TC-W3 or API TC specification is suggested. HP Marine is also recommended for the following applications:
Johnson/Evinrude/BRP FICHT and E-TEC
Mercury EFI & Optimax
Yamaha Outboard
Nissan and Tohatsu TLDI
Suzuki Outboard
Mariner and Force Outboards
Directions For Use of AMSOIL HP Marine Synthetic 2-Stroke Oil
HP Marine can be used in either oil injection systems or as a premix at recommended ratio of 50:1 (2.6 ounces of oil per US Gallon of gasoline or 20 milliliters of oil per litre of gasoline).
Can You Mix AMSOIL HP Marine Synthetic 2-Stroke Oil with Other 2-Stroke Oils?
AMSOIL HP Marine Synthetic 2-Stroke Oil is compatible with most other brands of conventional, synthetic-blend and synthetic two-stroke oil. For best results, it is recommended that mixing AMSOIL HP Marine with other brands of oil is kept at a minimum.
Specifications
HP Marine Synthetic 2-Cycle Oil

Kinematic Viscosity @ 100°C, cSt (ASTM D-445)
8.5
Kinematic Viscosity @ 40°C, cSt (ASTM D-445)
46.8
Viscosity Index (ASTM D-2270)
160
Pour Point °C (°F) (ASTM D 97)
-46 (-51)
Flash Point °C (°F) (ASTM D 92)
86 (187)
Fire Point °C (°F) (ASTM D 92)
86 (187)
ASTM Brookfield Viscosity @ -40°C (°F), cP
14025
NMMA TC-W3® Rust Test
Pass
Jaso M 342-92 Smoke Test (FD)
Pass
TC-W3 Lubricity Test (ASTM D 4863)
Pass
OECD – Guideline 203, Fish Acute Toxicity Test
100% Survival Rate
OECD – Guideline 202, Daphnia Acute Immobilization Test
100% Survival Rate
DANGER: harmful or fatal if swallowed. Contains synthetic lubricant and petroleum distillates. If swallowed do not induce vomiting. Contact a physician immediately. Keep away from fire, heat and open flame. Use with adequate ventilation. Avoid frequent or prolonged skin contact. Flush eyes with water for 15 minutes in case of contact. KEEP OUT OF REACH OF CHILDREN.