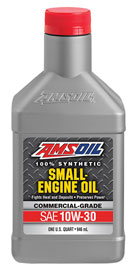 Outperforms regular car engine oil in gasoline, liquid-propane, natural gas or diesel-powered engines. Suitable for applications requiring a 10W-30 or SAE 30 motor oil
AMSOIL Small Engine Oil package sizes include: 1-Quart Bottle (or buy case of 12) 5-US Gallon Pail 30-Gallon Drums 55-Gallon Drums  
Oil Depot can offer wholesale programs so that you can buy AMSOIL Synthetic 10W-30 Small Engine Oil at the best prices in Canada or the United States. Request a synthetic oil price list using the contact form on this page.
Robust Formula For Small Engine Service
This small engine oil is so much more than simply re-labelled car oil.  Today's automotive engine oils have to be compatible with a myriad of emissions equipment and sensors. Limits have to be placed on some anti-wear additives and oil makers have to employ alternate design methods to limit wear. Don't get us wrong, the good quality automotive engine oils on the market do their job very well. But it takes innovative methods to reach that end. As small engines do not have emissions equipment, AMSOIL has far less design constraints for this product. They are able to load AMSOIL Synthetic 10W-30 Small Engine Oil with anti-wear additives, detergents and anti-rust protection in amounts that would be well beyond the limits of today's automotive oil specifications. Therefore, not only does AMSOIL Small Engine Oil provide unsurpassed protection, performance and service life, it also delivers an unbelievable bang for your buck.
Suitable Applications for AMSOIL Synthetic 10W-30 Small Engine Oil
Suitable for engine brands such as Briggs & Stratton, Honda, Kawasaki, Kohler, Kubota, Linamar, Onan, Powertrain, Robin, Tecumseh, Vanguard, Wisconsin, Yanmar, Yamaha and more.
Small gasoline or diesel engines
Lawn/garden equipment
Yard tractors
Zero-turn mowers
Tillers
Wood chippers
ATV/Side-by-side
Generators
Snow blowers
Water pumps
Mobile welders
Masonry equipment
Skid-steer loaders
Pressure washers
Log splitters
AMSOIL Synthetic 10W-30 Small Engine Oil is suitable for applications requiring a "straight grade" SAE 30. Its synthetic oil properties allow it to qualify as a multi-grade engine oil. This oil can replace the following viscosities:
AMSOIL Synthetic 10W-30 Small Engine Oil is suitable for applications requiring the following specifications:
API SL, SJ, SH, SG (Small Gasoline Engine specifications)
API CG-4, CD, CF (Small Diesel Engine specifications)
JASO MA/MA2, ISO-L-EMA2 (Motorcycle/ATV/Side-by-Side, Wet Clutch)
Features and Benefits of AMSOIL Synthetic 10W-30 Small Engine Oil
Multifunctional- can be used in most any 4-stroke utility engine
Overbuilt to withstand extreme heat and heavy loads
Capable staying in service for extended periods
Suitable for gasoline, liquid-propane, natural gas or diesel-powered engines
Lowers oil usage
Exceptional cold weather performance
Fights deposits for clean engine internals
Wet-clutch compatible
Contains an anti-rust package for off-season storage protection
Built for Long Service Intervals
Utility engines, especially those used in commercial operations such as golf courses or lawn care companies log a lot of hours. Sometimes maintenance can be put on the back burner. AMSOIL considered this reality when designing this small engine oil formula. It is given a synthetic base oil that is shear resistant and loaded with additives to prevent oxidation and deposit formation. You can rest easy knowing that your small engine oil is designed to withstand abuse for periods well beyond regular oil change intervals.
Will Not Shear Down Or Thin Out
Many small engines specify the use of "straight grade" SAE 30 engine oil that does not contain "viscosity index improvers". The reason for this is that engine oils containing VI Improvers tend to shear down in hot operating conditions. AMSOIL Small Engine Oil does not contain viscosity index improvers and offers a strong resistance to shearing during hot operation and under heavy loads. It is a perfect candidate for engines requiring "SAE 30" motor oil.
Resists Oil Usage
AMSOIL Synthetic 10W-30 Small Engine Oil fights oil usage in hot operating temperatures due to its low volatility and shear stability. AMSOIL Small Engine Oil resists oil "boil-off" and as it does not "thin out", it is far less prone to "blow by". Tests show that AMSOIL 10W-30 Small Engine Oil lowers oil consumption for up to 61% over leading 10W-30/SAE 30 motor oils.
Flows Well at Very Cold Temperatures
Despite the fact that this oil qualifies as an SAE 30/10W-30 engine oil, its powerful synthetic base oil provides it with a -40°C (-40°F) cold-pour-point. AMSOIL Small Engine SAE 30/10W-30 will deliver fast cold start protection on even the coldest of mornings.
Provides Off-Season Rust Protection
Many small engines see seasonal operation and that can mean long periods of inactivity. AMSOIL loaded this small engine oil with anti-rust/corrosion additives which prevents damage to engine internals and engine seals during storage. This feature is also a reason why this AMSOIL small engine oil is ideal for engines that operate in the rain or for water pump service.
Can Be Used in Transmissions and With Wet-Clutches
Many farms and fleets have ATV's and Side-by-Sides and these vehicles often call for an oil that does not contain friction modifiers and is suitable for wet-clutches and transmission service. AMSOIL Synthetic 10W-30 Small Engine Oil will not be sheared down by gear meshing and will not cause clutch plate glazing.
Mixing AMSOIL Synthetic 10W-30 Small Engine Oil With Other Brands
AMSOIL Synthetic 10W-30 Small Engine Oil is compatible with all other brands of conventional, semi-synthetic and synthetic 4-stroke small engine oils. While you can safely mix AMSOIL Synthetic Oil with other brands, this will reduce the drain interval and performance capabilities of AMSOIL oil.
The use of any aftermarket oil additives is definitely NOT recommended.
Service Life for AMSOIL Synthetic 10W-30 Small Engine Oil
AMSOIL Synthetic 10W-30 Small Engine Oil can stay in service for up to one year or 200 hours of service (whichever comes first).
Specifications

AMSOIL Synthetic 10W-30 Small Engine Oil (ASE)

Kinematic Viscosity @ 100°C, cSt (ASTM D-445)

10.3

Kinematic Viscosity @ 40°C, cSt (ASTM D-445)

66.8

Viscosity Index (ASTM D-2270)

141

Pour Point °C (°F) (ASTM D-97)

-40 (-40)

Flash Point °C (°F) (ASTM D-92)

246 (475)

Fire Point °C (°F) (ASTM D-92)

264 (507)

Four Ball Wear Test
(ASTM D-4172B: 40 kg, 75°C, 1200 rpm, 1 hour), Scar, mm

0.45

Noack Volatility, % weight loss (g/100g) (ASTM D-5800)

4.0%

High Temperature/High Shear @ 150°C and 1.0 X 106 s-1, cP (ASTM D 4683), cP

3.3

Total Base Number

8.5