Choosing A Premix Ratio for Older 2-Stroke Engines
A reader asks: What is the correct oil to gas mixture for a 1973 Ski-Doo TNT 340 snowmobile? Is it safe to use synthetic oil in older 2-stroke engines like this?
Our answer: The ratio suggested by Ski-Doo 45 years ago would not be relevant today. Oil technology has changed dramatically since the 1970's. The ratio used should be the one suggested on the label of the chosen oil.
Vintage snowmobiles and motorcycles from that era suggested premix ratios ranging from 20:1 to 40:1. Conventional 2-stroke oils from the 70's would have a fraction of the film strength of today's sophisticated synthetic 2-stroke oils. Anyone who rode snowmobiles back in those days remembers the clouds of smoky exhaust. A larger volume of oil had to added to the fuel to provide adequate engine protection.
When using a modern 2-cycle oil, go with the ratio suggested on the oil bottle label. It will work just fine. When ever changing to a different 2-stroke oil, it's a good idea to do a spark plug reading.
AMSOIL 2-Stroke Oil Choices For Vintage Snowmobiles
If you looking for an AMSOIL synthetic 2-cycle oil for your classic sled, we've got two candidates.
AMSOIL Synthetic 2-Stroke Injector Oil is a value-priced synthetic that offers big features at a better price than many conventional and semi-syn 2-cycle oils. This product offers clean burning performance, low-smoke and exceptional wear protection. Synthetic 2-Stroke Injector Oil is also versatile as it can be used in snowmobiles or outboard engines. Ideal for either premix or oil injection systems.
AMSOIL Interceptor Synthetic 2-Stroke Oil is the absolute cream of the crop for the very latest high-tech snowmobiles. It also highly effective as a premix in older engines.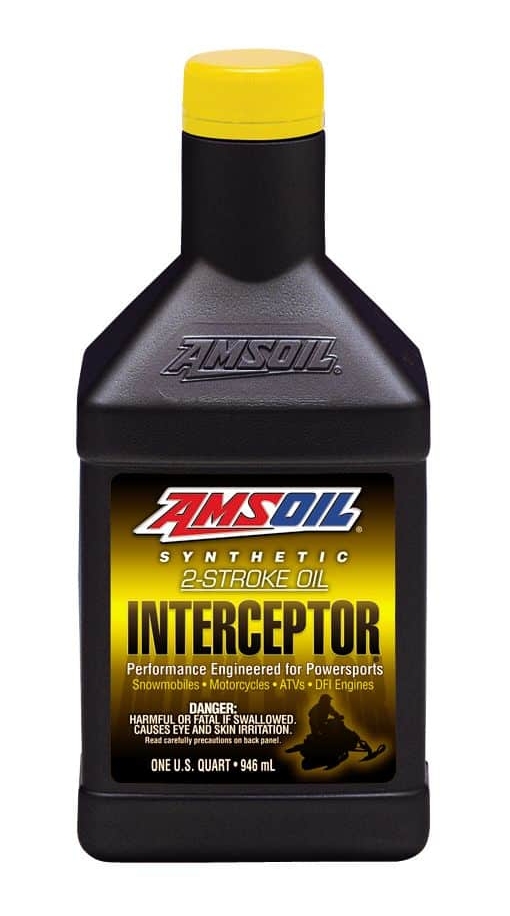 Interceptor offers a sophisticated synthetic base oil and a high detergent content for ultra-clean combustion and incredible deposit-fighting ability. Interceptor is the ultimate 2-stroke oil for maximum performance and wear control.
With either AMSOIL choice, go with the prescribed 50:1 ratio. This is a very conservative ratio that will deliver clean combustion and the best possible wear protection in any 2-cycle snowmobile engine. Use this ratio regardless of the original oil/gasoline mix ratio recommended by the snowmobile manufacturer.
Is Modern Synthetic 2-Stroke Oil Safe for Vintage Engines?
There are no compatibility problems with running synthetic 2-stroke oil in older engines. Synthetic oil is 100% compatible with all seal and gasket materials. There is nothing but strong benefits to using synthetic oil in older 2-strokes. Expect minimal exhaust smoke, improved throttle response and maximum wear protection.
Easy Oil/Gas Mix Ratio Calculator
Here is a link to a very helpful 2-stroke mix ratio calculator.
Choose whether you want to use Metric or US measurements.
Then add the number of US gallons or litres of fuel you will be mixing.
Type in your desired mix ratio and click on "Calculate". The calculator will tell you exactly how much oil to add to the gasoline.