Preventing Winter Power Steering Fluid Problems
Cars and trucks tend not to be very happy when exceptionally cold whether hits. But major mechanical problems can arise that go far further than poor starting and dead batteries. Some vehicles are very prone to catastrophic power steering freeze-up. When this occurs, the power steering fluid freezes and congeals in the power steering pump and cooler. Upon start-up, the flow of fluid is blocked and the resulting pressure ruptures the steering fluid pressure line and the fluid is blasted all over the ground. This headache is not only messy; it results in a very expensive repair bill. Update: Here's  photographic evidence of the aftermath of frozen power steering fluid.
Certain vehicles seem to be more prone than others. These include several Dodge/Chrysler cars and vans and the Ford Escape. We heard from a Ford Escape owner that had this misfortune the last two winters in a row, with $600 repair bills each time.
A Simple Preventive Solution For Frozen Power Steering Fluid
The simplest, most effective way to prevent winter power steering system failure is to switch to synthetic fluid. As temperatures dip into the -30°C range, conventional power steering fluids become all but useless. At best, they flow poorly in winter and starve the power steering pump of lubrication at start-up. That growling noise you hear after a cold start is the power steering pump running dry. At worst, the power steering oil can be completely frozen and the result can be the fiasco described above.
Our synthetic power steering fluids flow below -50°C, so even in the -40s, your steering pump receives fast oil circulation and disasters like blown power steering hoses are averted.
For vehicles that have chronic power steering issues, a journeyman mechanic has told us that he will go so far as to reroute the steering hoses to by-pass the power steering cooler. This completely eliminates the cooler as a blockage point for frozen fluid. His contention is that unless a vehicle is performing heavy towing or hauling, the power steering cooler is not needed in the Northern US or Canada. While this may be an effective fix (not that we endorse it), the conversion to synthetic power steering fluid is likely a far less expensive (and less risky) solution.
What Is The Correct Fluid For My Power Steering System?
Some vehicles require a specific power steering fluid, while others require automatic transmission fluid. For instance, some Dodge vehicles suggest an transmission fluid with the Chrysler ATF+4 specification, while some Ford vehicles suggest a fluid with the MERCON V ATF spec. Either way, we should be able to offer a world-class synthetic option for your car or truck. The exception is Honda/Acura cars. These cars require a very unique steering fluid formula that is significantly different than most other brands on the road.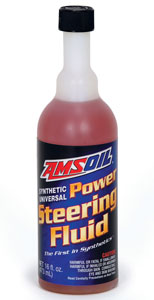 For vehicles that require a dedicated power steering fluid, we highly recommend AMSOIL Synthetic Multi-Vehicle Power Steering Fluid. This product meets the requirements for all but a handful of makes on the road. This product has a cold pour point of -51°C (-60°F), so it pumps easily during exceptionally cold starts.
For vehicles that require an automatic transmission fluid, we suggest our finest AMSOIL Signature Series Synthetic Multi-Vehicle ATF. It also meets a multitude of ATF specifications
and it pours down to -53°C (-63°F). Minus 40°C outside? No problem!
Either of these oils will be compatible with the fluid that is currently in your power steering reservoir, regardless of whether it is synthetic or conventional.
If you have questions about choosing the correct fluid, see our product application tool or contact us using the form on your right. Your owner's manual will also offer the correct specification for your vehicle.
More Benefits Of Synthetic Power Steering Fluid
Synthetic power steering fluid isn't just beneficial in extreme cold. Conversely, it also offers consistent protection and will not thin out under extreme heat. Other benefits include:
Instant flow for fast steering pump protection
Lower friction for optimized efficiency and smooth steering
Long term conditioning of seals and hoses for leak prevention
Prevents the formation of deposits and varnish
Resistant to viscosity breakdown over long intervals
If you're going through the trouble to change the fluid, it only takes a couple of bottles. Why not use an ultra-premium fluid?
How To Change Your Power Steering Fluid
Changing your power steering fluid is easy! The process requires no special tools or skills. In a previous post, we show you how to change your power steering fluid with a turkey baster! The cost is literally a couple of bottles of power steering fluid and a turkey baster.
Caution About Power Steering Stop Leak Additives in Winter
If you have minor power steering system fluid leaks, there are several "stop-leak" additives on the market that you can pour into the power steering system. While some of these products may (or may not) be effective, take special care if you live in a cold climate. Many of these products have a very, very thick viscosity (hello Lucas Oil brand), so the method of repair is basically to thicken the power steering fluid viscosity to a degree that it can't leak out. We have seen where some of these additives are so thick that they won't even pour out of the bottle at -10°C. So the use of this type of additive could greatly increase the risk of a power steering failure in extreme cold. A far better solution for minor power steering system leaks is to fix or replace the faulty component.