AMSOIL Signature Series Multi-Vehicle Synthetic ATF is an elite formula that meets dozens of domestic and foreign specifications. AMSOIL Synthetic ATF delivers long service and consistent performance. Excels in extreme cold or heat and under heavy loads. Dramatically outperforms conventional ATF's by offering superior wear protection and fluid durability. AMSOIL ATF is suitable for transmissions, power steering and hydraulic applications.
Buy AMSOIL Signature Series Synthetic Multi-Vehicle Automatic Transmission Fluid (ATF) in Canada or the US with our wholesale programs. Request a price list using the form on this page.
AMSOIL Synthetic ATF Las Vegas Cab Fleet Field Study (141kb PDF)
AMSOIL Transmission Fluid Product Recommendation Guide
Signature Series Synthetic Multi-Vehicle ATF package sizes include:
1-Quart Bottle (or buy case of 12) 1-Quart Easy-Pack (or buy case of 12)
1-Gallon Bottle (or buy case of 4)
2.5-Gallon Bottles (or buy case of 2)
55-Gallon Drum
AMSOIL ATF is a high quality replacement fluid that precisely covers scores of industry specifications. Does not require the use of additional oil additives for correct transmission performance. AMSOIL's select formula and exacting manufacturing processes deliver world class performance and component protection. This product has been proven across a vast variety of applications.
Features And Benefits Of AMSOIL Signature Series Synthetic ATF
Dramatically outperforms, out-protects and outlasts regular ATF's
Excels in extreme heat or cold
Withstands heavy loads
Reduces friction for maximum fuel economy
Contains powerful "anti-shudder" additives
Keeps seals pliable to prevent oil leaks
Resists oxidation for extended ATF service life
Detergent additives keep transmission deposit-free.
Applications
AMSOIL Signature Series Synthetic Multi-Vehicle ATF is recommended for any of the following worldwide specifications:
GM DEXRON III, DEXRON II, AutoTrak II
Ford MERCON & MERCON V, ESP-M2C166-H, FNR5, M2C924-A, XL-12
Chrysler ATF+4, MOPAR ASRC, 68089195AA, 68049954AA
Toyota Type T, T-II, T-III & T-IV
Honda ATF-Z-1
Hyundai/Kia SP II & III, Red-1
Mazda ATF-MIII, ATF-MV, F1
Subaru ATF, ATF-HP
Nissan Matic D, J & K, 402
Mitsubishi SP II & SP III, ATF J2
Volkswagen  G 052 162, G 052 990, G 055 025
Suzuki 3314 & 3317
BMW 7045E, 8072B, LA 2634, LT 71141
Audi G 052 162, G 052 990, G 055 025
Volvo 97340, 97341
Mercedes Benz 236.1, 236.2, 236.3, 236.5, 236.6, 236.7, 236.9, 236.10, 236.11, 236.81, 236.91
Saab 3309
Man 339F, 339 Type V1, 339 Type V2, 339 Z1, Z2 & Z3
JASO 1-A
JWS 3309, 3314, 3317
Idemitsu K-17
Shell 3403, LA 2634
Texaco ETL-7045E, ETL- 8072B, N402
Voith 55.6335, 55.6336
Allison C-4, TES 389
ZF TE-ML 03D, 04D, 05L, 09, 11A, 11B, 14A, 14B, 14C, 16L, 16M, 17C, 20B, 20C, 21L
AMSOIL ATF is NOT recommended for the following applications which have significantly different frictional or viscosity requirements:
CVT Transmissions
Ford Type F Transmissions
GM DEXRON® VI, MERCON® LV, SP, Toyota WS, Honda DW-1, Nissan Matic-S see: Synthetic Fuel Efficient Automatic Transmission Fluid (ATL)
Ford Type F see:  Synthetic Super Shift® Racing Transmission Fluid (ART)
Vintage/Classic Cars see: How To Find The Right ATF For Older Cars
Real-World Testing In Rigorous Las Vegas Cab Fleet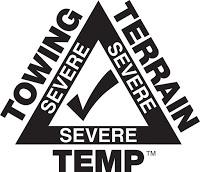 AMSOIL is always eager to test their products in the field. To prove the worth of their Signature Series Multi-Vehicle Synthetic ATF, they commissioned a third-party, independent test of this product in Las Vegas taxi cabs. The hard-driven cabs were run in city-driving conditions and scorching temperatures for 100,000 miles. The AMSOIL Synthetic ATF samples were then tested in the Aluminum Beaker Oxidation Test (ABOT). This examines an ATF's ability to resist oxidation. To meet the Chrysler ATF+4 specification, a new ATF must be able to resist oxidation after 500 hours in ABOT testing. As seen in the chart below, the AMSOIL Synthetic ATF that had been used in taxi cab service for 100,000 miles. It not only passed the ABOT test at 500 hours, but had another 300 hours in reserve!
Also shown below are the valve body and clutch plates from the car transmissions. These are a testament to AMSOIL ATF's ability to resist sludge and varnish.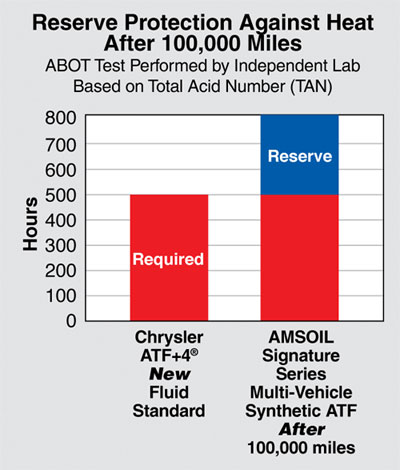 Strong Resistance To Oxidation
AMSOIL Synthetic ATF's robust additive package resists oxidation and varnish formation.  This was proven under extreme conditions as illustrated by the Las Vegas Taxi Field Study. The resistance to depositing means continuously clean transmission internals. Clean transmissions run cooler, shift reliably and last longer.
Synthetic Wear Defense
AMSOIL takes a multi-pronged approach to wear control. The synthetic formula brings reduced friction, high film strength, extreme pressure resistance and consistent operation in extreme temperatures. The sum of all of these defensive features is long transmission life.
Steady Performance In Extreme Heat Or Cold
Temperature extremes can wreak havoc the operation of automatic transmissions. Regular ATF thickens in cold weather which hampers shifting and proper operation. Extreme heat and heavy loads can break down lesser ATF's. This ultimately leads to transmission failure. AMSOIL Signature Series Synthetic Multi-Vehicle ATF is formulated to function normally in temperature extremes. With a -63°F pour point, you can start out with confidence on the coldest mornings. In hot weather or during heavy towing, AMSOIL ATF is shear stable and will not thin-out.
Withstands The Rigors Of Modern Transmissions
The automatic transmissions in modern car and trucks are more complex than ever. Today's compact units have more speeds and utilize intricate electronics to assist operations. More than ever, reliable ATF performance is vital. AMSOIL's Synthetic ATF formula delivers consistent torque transfer, static friction properties and smooth anti-shudder performance. Testing shows that that AMSOIL ATF performs almost like new after 100,000 miles of hard driving.
Mixing AMSOIL With Other Brands
AMSOIL Signature Series Multi-Vehicle Synthetic ATF is compatible with other brands of conventional, semi-synthetic and synthetic automatic transmission fluid. You can safely mix AMSOIL Synthetic Oil with other brands. However, this will reduce the drain interval and performance capabilities of AMSOIL Synthetic ATF.
The use of any aftermarket oil additives with AMSOIL Multi-Vehicle Synthetic ATF is definitely NOT recommended.
Service Life
Normal Service: AMSOIL Synthetic Multi-Vehicle ATF is recommended for oil change intervals as stated by the vehicle owner's manual or as indicated by the oil life monitoring system.
Severe Service*: Change at twice the suggested OEM severe service interval.
* Severe service: commercial, taxi or fleet vehicles. Vehicles with more than 100,000 miles (160,000 km) without prior continuous use of AMSOIL ATF. Or frequent towing, snow-plowing, hauling or dusty operation.
Specifications

AMSOIL Signature Series Synthetic Multi-Vehicle Automatic Transmission Fluid (ATF)

Kinematic Viscosity @ 100°C, cSt (ASTM D-445)

7.5

Kinematic Viscosity @ 40°C, cSt (ASTM D-445)

38.5

Viscosity Index (ASTM D-2270)

165

Flash Point °C (°F) (ASTM D-92)

234 (453)

Pour Point °C (°F) (ASTM D-97)

-53 (-63)

Four Ball Wear Test, Scar in mm; 40 kg, 75°C, 1200 rpm, 1 hr (ASTM D-4172B)

0.40

Brookfield Viscosity @ -40°C, cP (ASTM D-2983)
9755