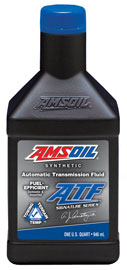 An elite synthetic replacement ATF for GM DEXRON HP & VI, Ford MERCON LV & SP, ZF 8&9 Speed, Toyota WS, Honda DW-1, Nissan Matic-S/W & many more.

Signature Series Fuel-Efficient Synthetic ATF package sizes include:
1-Quart Bottle (or buy case of 12) 1-Quart Easy-Pack (or buy case of 12)
1-Gallon Bottle (or buy case of 4)
2.5-Gallon Bottle (or buy case of 2)
30-Gallon Drum
55-Gallon Drum
AMSOIL Synthetic ATF Las Vegas Taxi Fleet Field Study (141kb PDF)
AMSOIL Transmission Fluid Product Recommendation Guide
Today's automatic transmissions are increasingly complex. They are equipped with more speeds and function with complex electronics. These units are also very compact in size and driven by more horsepower than ever. Therefore they endure very hot operating temperatures and heavy loads. Using a transmission fluid that performs consistently in all conditions is more vital than ever before.
Features and Benefits of AMSOIL Signature Series Fuel-Efficient Synthetic ATF
Dramatically outperforms other synthetic, semi-synthetic and conventional ATF's
Does not require aftermarket oil additives for proper operation
Impervious to extreme heat or cold
Protects during heavy loads and towing
Maximizes fuel economy due to lower friction
Prevents transmission "shudder"
Conditions seals to prevent oil leaks
Robust formula is capable of long service life
Resists deposits and sludge
Applications
AMSOIL Signature Series Fuel-Efficient Synthetic ATF is recommended for any of the following worldwide specifications:
Ford MERCON® LV, SP, ULV
GM DEXRON® VI, ULV (this spec replaces DEXRON III for older GM applications)
GM DEXRON® HP
Chrysler Mopar® 68157995A (ZF 8&9 Speed ATF), SP-1V, 68218925AB
Toyota WS
Honda DW-1, Type 3.0
Nissan Matic-S, Matic-W
Hyundai/Kia SP-IV, SPH-IV, SP-IV-RR, NSW 9638, SP4-M
Mercedes-Benz 236.12, 236.14, 236.15, 236.41
Mitsubishi SP-IV, ATF J2, ATF J3, ATF PA, ATF MA1
Volkswagen G 055 005, G 055 162, G 060 162
Volvo 31256774
Audi G 055 005, G 055 162, G 060 162
BMW 83 22 0 142 516, 83 22 2 152 426, 83 22 2 289 720 (ATF3+)
Saab 93 165 147
Dsih 6p805
JASO 1-A-LV
JWS 3324
Aisin-Warner AW-1
Shell M-1375.4, M-1375.5, M-1375.6, M-L 12108
ZF S671 090 255
Note: Not for use in CVT transmissions
Las Vegas Taxi Fleet Torture Test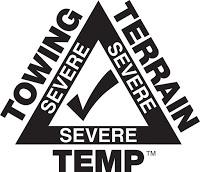 AMSOIL tested Signature Series ATF's ability to withstand severe real-world conditions. They put their Multi-Vehicle Synthetic ATF through impartial, third party testing in a Las Vegas taxi-cab fleet. The Signature Series Multi-Vehicle Synthetic ATF formula is identical to this Signature Series Fuel-Efficient Synthetic ATF. These taxi-cabs were operated under continuous stop and go conditions in searing temperatures for 100,000 miles. The used Signature Series fluid was then analyzed using the Aluminum Beaker Oxidation Test (ABOT). To meet the Chrysler ATF +4 standard, an ATF must resist oxidation for 500 hours in ABOT lab testing. The AMSOIL ATF not only passed the 500 hour test, it withstood another 300 hours on top of that.
Also shown below are the valve body and clutch plates from the taxi transmissions which illustrate AMSOIL ATF's capacity to prevent sludge and varnish.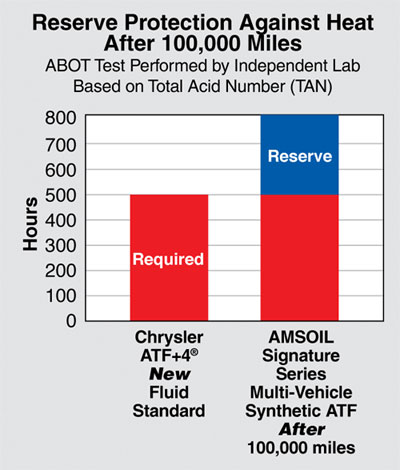 Clean Operation Equals Long Transmission Life
As Signature Series Fuel-Efficient ATF is able to resist oxidation, varnish and sludge formation is kept at bay. Oil ports, valve bodies and clutches are clean and free of oxidized materials. This allows transmissions to function like new, with cooler operation and longer service life.
World-Class Wear Prevention
Automotive manufacturers are dictating thinner ATF viscosities than ever. GM DEXRON VI & HP, Ford MERCON LV & SP, Toyota WS, Honda DW-1, Nissan Matic-S are some of the thinnest ATF specifications that the industry has ever seen. Automakers are employing thin fluids to maximize fuel economy. As you can imagine, wear control and fluid film strength are vital. This product's robust synthetic formula offers extreme pressure additives and a stout film strength. This maintains viscosity under heavy loads and extreme heat.
Extreme Temperature Performance
With a cold-pour-point of -63F, this ATF is virtually unaffected by cold weather. Therefore, Expect normal shifting and optimum fuel economy all winter long. In hot weather (as shown in the Las Vegas Field Test) this ATF easily withstands severe service in extreme heat.
Mixing AMSOIL ATF with Other Brands
AMSOIL Signature Series Fuel-Efficient Synthetic ATF is compatible with other brands of conventional, semi-synthetic and synthetic ATF. While you can safely mix AMSOIL Synthetic Oil with other brands, this will reduce the drain interval and performance capabilities of AMSOIL Synthetic ATF.
The use of any aftermarket oil additives with AMSOIL Fuel-Efficient Synthetic ATF is definitely NOT recommended.
Service Life
Normal Service: AMSOIL Signature Series Fuel-Efficient Synthetic ATF is recommended for oil change intervals as stated by the vehicle owner's manual or as indicated by the oil life monitoring system.
Severe Service*: Change at twice the suggested OEM severe service interval.
* Severe Service: Commercial, taxi or fleet vehicles, vehicles with more than 100,000 miles (160,000 km) without prior continuous use of AMSOIL ATF, frequent towing, snow-plowing, hauling or dusty condition operation.
Specifications

AMSOIL Signature Series Synthetic Fuel Efficient Automatic Transmission Fluid (ATL)

Kinematic Viscosity @ 100°C, cSt (ASTM D-445)

6.3

Kinematic Viscosity @ 40°C, cSt (ASTM D-445)

30.8

Viscosity Index (ASTM D-2270)

159

Flash Point °C (°F) (ASTM D-92)

224 (435)

Fire Point °C (°F) (ASTM D-92)

244 (471)

Pour Point °C (°F) (ASTM D-97)

-65 (-85)

Four Ball Wear Test @ 75°C, 1200 rpm, 40 kg, 1 hr, Scar, mm (ASTM D-4172)

0.41

Brookfield Viscosity, cP (ASTM D-2983)

7676