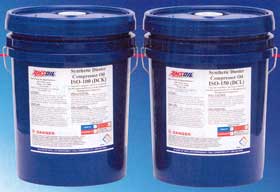 A high-performance industrial compressor fluid that withstands temperature extremes, resists deposits and reduces friction.
Package sizes include: 18.9L (5 US Gallon) Pails 208L (55 US Gallon) Drums
AMSOIL DC Synthetic Compressor Fluid is a specialized industrial oil that is designed for applications that have very hot discharge temperatures and where carbon deposits and sludge are a significant risk.  DC Series also reduces friction for improved system performance and lower energy consumption. Exceptional cold weather properties make this product a versatile choice in a variety of environments. Available in ISO 100 or ISO 150 formats.
See how we can offer AMSOIL DC Synthetic Compressor Fluid at the lowest price. Oil Depot has wholesale programs available for your company. We ship from warehouses in Canada and the United States. Request our price list using the contact form on your right or call us at 1-800-748-5781.
Suitable Applications for AMSOIL DC Series Synthetic Compressor Oil
Air Compressor Types
Other Suitable Applications
This product is NOT suitable for:
Breathing air compressors
Refrigeration compressors
Features and Benefits of AMSOIL DC Synthetic Compressor Fluid
Reduces heat
Fights wear
Prevents carbon deposits
Lowers friction for reduced energy consumption
Ashless formula
Long service life
Cold weather capable
Does not absorb moisture
Combats rust and corrosion
High flash point
Available at wholesale in Canada and USA
Reduce Energy Consumption
This synthetic compressor fluid series reduces friction, so your system draws less energy. Add this factor to the lower wear and longer service intervals and you've got cost-savings from every angle.
Outstanding Cold Temperature Performance
With cold pour point of -40°C (ISO 100) and -31°C (ISO 150), AMSOIL DC Series delivers exceptional cold weather performance and consistent operation in any climate.
Professional-Grade Wear Control
The high-end synthetic formula of AMSOIL DC Series provides reliable wear control over long maintenance intervals. Expect ultra-long life out of your equipment and reduced repair costs.
AMSOIL DC Synthetic Compressor Fluid Compatibility with Materials
This product is compatible with the following:
Gases:
Nitrogen
Hydrogen
Helium
Carbon dioxide (dry)
Ethylene
Methane
Propane
Butane
Propylene
Butylenes
Natural gas
Benzene
Butadiene
Furnace (crack gas)
Hydrogen sulfide (dry)
Synthetic gas
Sulfur dioxide
Paints:
Epoxy
Oil resistant Alkyd
Plastics:
Acetal (Delrin) (Celcon)
Phenolic
Polyamide-imide
Polyamide (nylon)
Polyetherimide (Nylon)
Polyimide
Tetrafluoroethylene (PTFE)
Terephthalate
Elastomers:
Fluoroelastomer (Viton)
Nitrile (> 36% Buena N)
Polyacrylate (HyTemp)
TFE Propylene (Aflas)
Florosilicone (Silastic)
This product is NOT suitable for the following gases and materials:
Chlorine,
Oxygen,
Hydrogen chloride,
Ammonia
Sulfur hexafluoride gases
Neoprene,
SBR rubber,
Low Nitrile Buena N Seals,
Acrylic
Lacquer type paints
Polystyrene, PVC and ABS plastics
Procedure for Switching Your Compressors to AMSOIL DC Synthetic Compressor Fluid
Prior to switching over to AMSOIL DC Series, completely drain previous compressor fluid.
Check for any evidence of varnish or deposits left by previous fluid. As this product has the inherent ability to clean-up compressor components, it is best to clean deposits in advance.
Check filters during the initial 500 hours of run time.
Oil Change Interval for AMSOIL DC Synthetic Compressor Fluid
Change this product after 8000 hours of operation. For best results, perform periodic oil analysis. We can provide oil analysis kits and lab services.
Contact us for MSDS information using the contact form on the upper right of this page.
AMSOIL DC Synthetic Compressor Fluid Compatibility With Other Oils
AMSOIL DC Series is compatible with other synthetic, semi-synthetic and conventional compressor oils.
This product is NOT compatible with polyalkylene glycol (PAG) or silicone compressor fluids.
This product is a high quality replacement for the following compressor fluid products:
Air 2000 DS100 & DS150
76 Lubricants Triton Syn 100
Amerilube/American Synthol A1000C & A1500C
AMOCO SYNTHOLUBE SL100 & SL 150
Anderol 500. 525, 555, 750, 755 (not for breathing air systems)
Anderol 817 & SX-150
Aral Motanol SH 100
Camco 410-100-D & 410-150-D
Castrol ISOLUBE 6767
Castrol-Tribol Syncom 100 & Tribol 890 Heavy
Cato Mystic Synguard 100
Century/NFO Synshield D 100 & D 150
Citgo Mystik Syngard Syn Ind 100
Citgo Diester Lubricant 100/150
Cognis Emgard 2100 & 2150
Compair (Kellogg-American) CS 300 & CS 400
Conoco SynXPA 100 & 150 R&O
CPI Engineering CP-4100-100 & CP-4100-150
Direct Supply DS05-39161534
Dubois Summa Recip 68
Duratherm Diester 100 & 150
eCompressor ECASX 150
Elf Barelf CH 100
Exxon Synesstic 100 & 150
Fina Synolan DCO 100 & 150
Forsythe Synpressor 100
Gardner Denver AEON AC SY 100, GD 5000-30, GD 5000
Gulf Atlantic GAO 100 D & GAO 150 D
Hatco Hatcol 2850 100
Hydrotex 852 Syn-Diester
Independent Components Corp. Lube D100 ICC
Industrial Oils Unlimited Syncomp 100 & 150
Industri-lube I-100D & I-150D
Ingersoll-Rand T-30 Select, XL-700, XL-740 HT, XL-300, All Season Select 100
Irving Oil Syn Compressor 100 & 150
Jax/Behnke Syncomp D-100
Keystone KSL 100, KSL 150, NP-750, 49 Light 100
Kluber Klubersynth DH2-100
Leahy-Wolf Synmaster D 100 & D 150
Lubricating Specialties Synthetic Air C. O. 100 & 150
Lubriplate (Fiske) Synac 100 & 150
Mattei Rotoroil 8000F2 100 Diester
Mobil Rarus 827 & 829
Neo Synthetic SCL 500 & 700 100 Ester
Oils Unlimited Syncomp 100 & 150
Oil-Tech Comproil 500 & 750
Orelube L-100
Pacer SCL 500 & 700
Pennzoil Pennzcom S 100 & S150
Perkins Products Perlube SYN-100-AC & 100
Perkins Products Perlube SYN-150-AC
PetroCanada Super Compressor Fluid 100 & 150
Petronas Pressol Syn PR 35100 & PR 36150
Petronomics 51286 & 51288 150
Phillips/Philesco Syndustrial E 100
Parts Services International (PSI) S 3000
Quincy Quincip 100
Royal Royco 4100 & 4150
Royal Purple Synfilm Recip 100 & 150
Select Lubricants SL20-100, SL20-125, SL20-150
Schramm SSL 30
Shell Corena DE 100 & DE 150
Stauffer SL-1010
Summit DSL 100, DSL125 & 125XM
Sunoco Challenge DE 100 & DE 125
Syn-Flo 90
Tarus Lubricants Synvis EstAir 100 & 150
Texaco Syn-Star DE 100
Texas Refinery Corp (TRC) Syn Comp 100
Thermal-Lube XL-7331/100 & XL-7331/150
Total ELF Fina Dacnis SE 100
Tower Oil Syncom 8
Tribology Tech-Lube TACO 100D & 150D
Tri State Industrial Syn Com 100 & 150
Ultrachem Chemlube 501, 751 & 800
Universal Air (U-Slick) UA-500
Universal Air (U-Slick) UA-555
Valvoline Syngard CE 100 & 150
Wallover WOCO DEC 100 & 150
Whitmore Decathalon DE 100
Specifications

Synthetic DC Series Compressor Oils

DCK ISO 100

DCL ISO 150

ISO VG — ASTM D-2422
100
150
VK 100°C — ASTM D-445
11.3
13.7
VK 40°C — ASTM D-445
99.1
148.5
Viscosity Index — ASTM D-2270
100
86
Density — ASTM D-1298
7.47
7.851
Flash Point °C (°F) — ASTM D-92
250 (482)
258 (496)
Fire Point °C (°F) — ASTM D-92
282 (540)
282 (540)
Pour Point °C (°F) — ASTM D-97
-40 (-40)
-31 (-24)
Four-Ball Wear Test — ASTM D-4172:
40 kg, 1200 rpm, 75°C, 60 minutes, mm
0.45
0.45
Copper Strip Corrosion Test — ASTM D-130
1A
1A
Foam, ml ASTM D-892. Seq I, II III at end of test
0/0/0
0/0/0
Demulsibility ASTM D-1401 [oil/water/cuff (minutes)]
40/40/0 (15)
40/40/0 (15)
Rust Procedure A ASTM D-665
Pass
Pass
AMSOIL DC Synthetic Compressor Fluid
An industrial synthetic compressor fluid designed to withstand high temperatures and resist carbon and sludge. Also flows easily in cold weather. Available in ISO 100 and ISO 150.
Model:
DC Synthetic Compressor Fluid