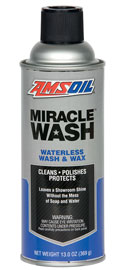 AMSOIL Miracle Wash Waterless Wash and Wax is convenient "3 in one" spray formula that safely cleans, polishes and protects car finishes in a simple "spray on, buff off" process. A portable way to clean cars without water. Miracle Wash is the fastest way to a showroom shine. For sale in USA only.
Miracle Wash package sizes include: 13-oz. Spray Can (or buy case of 6)  
An Oildepot Favorite
This is a product we reach for a on a regular basis. Miracle Wash's extraordinary formula lays down a deep cleaning foam that lifts grime from paint. Scratches and hazing are prevented by active detergents that suspend dirt and lubricating agents that protect paint during application. The result is a clean, showroom shine that is protected from sun, water, snow, ice and dust.
Features and Benefits of AMSOIL Miracle Wash Waterless Wash and Wax
Fast and simple application
Cleans, shines and protects without water
Non abrasive
Does not attract dust
Protects paint from UV rays
Ideal for any painted, glass or chrome surface.
Applications for AMSOIL Miracle Wash Waterless Wash and Wax
Automotive finishes
Chrome
Snowmobile hoods and windshields
Motorcycle paint, chrome and windscreens
Boats/personal watercraft
Bicycles
Glass, mirrors
Brass musical instruments
Semi-truck paint, chrome and glass
Directions for Use of AMSOIL Miracle Wash Waterless Wash and Wax
Note that Miracle Wash will safely remove light dust and normal road grime, but is not designed to remove heavy dirt or caked-on mud.
1. Park vehicle in shaded area and make sure that the surface is cool to the touch.
2. Shake Miracle Wash can for 30 seconds.
3. Spray a light coating of Miracle Wash onto a small 3 to 4 square foot area. Avoid rubber, vinyl and plastic materials. Miracle Wash will not harm these materials, but it can leave a white coating on them. If incidental spray ends up on these materials, simply wipe off before it dries.
4. Use a clean terry cloth or micro-fiber towel to distribute Miracle Wash in a circular motion until a dry haze is apparent.
5. Use a separate clean terry cloth or micro-fiber towel to buff to a clean shine.
Oildepot Tip
Tip 1- AMSOIL Miracle Wash not only does an immaculate job cleaning exterior glass, it also repels rain, sleet and snow for improved vision in wet weather. We used to purchase separate products to treat windshields for this purpose, but Miracle Wash performs this task quite admirably. It also cleans headlight lenses and keeps sleet and ice for sticking to them.
Tip 2- At least twice yearly, we give our vehicles a deep polishing with a paste wax. After washing the vehicle we give the paint an application of Miracle Wash to remove surface grit. This prevents us from grinding dirt into the paint when we apply wax.