AMSOIL Dominator Synthetic 5W-20 Racing Oil (RD20) is formulated with zero compromises to optimize output and defend your racing engine against extreme heat and stress. Contains 1575 ppm zinc and 1424 ppm phosphorus for excellent flat tappet camshaft protection.
Dominator Synthetic 5W-20 Racing Oil package sizes include: 1-Quart Bottle 1-Quart Bottles (case of 12) 55-Gallon Drum
Request a Canadian or US wholesale price list using the contact form on this page.
If your racing engine requires a 5W-20 engine oil or if you are searching for a light viscosity oil for qualifying purposes, then AMSOIL Dominator Synthetic 5W-20 Racing Oil should be at the top of your list. AMSOIL pulled out all the stops when they created the Dominator racing oil series, using the best synthetic base oils and most powerful additives available. The result is an engine oil that protects your expensive engine for the long haul, while reducing friction to maximize your full potential. You can concentrate on winning because engine oil failure will no longer be a factor on your race days.
Dependable, Long Lasting Wear Defense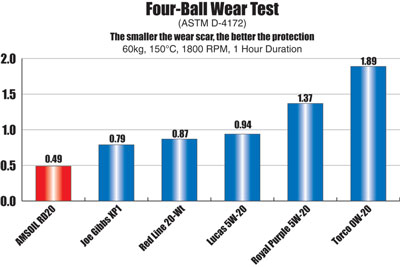 AMSOIL Dominator Synthetic 5W-20 Racing Oil is loaded with anti-wear additives like zinc and phosphorus so that your engine is guarded against wear until the checkered flag waves and beyond. The shear-stable synthetic formula is designed to withstand all of the heat and shock loads that your racing engine dishes out while maintaining its viscosity to the bitter end. Dominator will put a hold on friction and wear, no matter how long the event may be. The synthetic formula also delivers immediate cold-start protection as this can also be a vulnerable time for premature race engine wear.
Maximizes Horsepower Output
AMSOIL Dominator Synthetic 5W-20 Racing Oil's sophisticated synthetic formula limits friction resulting in optimized engine output and improved throttle response. Lower friction also contributes to cooler operating temperatures and demonstrably longer component life.
Enjoy the Same Formula We Supply to the Pros
Unlike other racing oil makers, the Dominator Synthetic Racing Oil series is the exact formula that we supply to AMSOIL-sponsored racers. There are no "works" racing oil formulas for the professionals, so rest assured that you are getting same the performance and protection as the big guys.
Applications
AMSOIL Dominator Synthetic 5W-20 Racing Oil is suitable for following types of engines:
Modified, high rpm, extreme horsepower engines
Turbo-charged or super-charged engines
Gasoline or alcohol-fueled engines
Nitrous oxide-injected engines
Dominator 5W-20 is ideal for the following type of applications:
Any type of racing or highly modified, high horsepower vehicle requiring a 20 weight oil
Outstanding as a dependable, light-viscosity qualifying engine oil
Suitable for high performance street or modified import cars *
* Not suitable for street vehicles with factory emissions equipment in place.  Contact us with any questions on this.
Oil Change Interval For AMSOIL Dominator Synthetic 5W-20 Racing Oil
Change Dominator Synthetic 10W-20 Racing Oil at the interval as prescribed by the engine builder or engine manufacturer.
Mixing AMSOIL Dominator Synthetic 5W-20 Racing Oil with Other Brands
Dominator Synthetic 5W-20 Racing Oil is compatible with all other brands of conventional and synthetic motor oils. While you can safely mix AMSOIL Synthetic Oil with other brands, this will reduce the drain interval and performance capabilities of AMSOIL Dominator 5W-20.
The use of any aftermarket oil additives with AMSOIL Dominator Synthetic 5W-20 Racing Oil is definitely NOT recommended.
Specifications

AMSOIL Dominator Synthetic 5W-20 Racing Oil (RD20)

Kinematic Viscosity @ 100°C, cSt (ASTM D-445)

8.9

Kinematic Viscosity @ 40°C, cSt (ASTM D-445)

51.3

Viscosity Index (ASTM D-2270)

155

CCS Viscosity (°C), cP (ASTM D-5293)

4903 (-30)

Pour Point °C (°F) (ASTM D-97)

-50 (-58)

Flash Point °C (°F) (ASTM D-92)

228 (442)

Fire Point °C (°F) (ASTM D-92)

244 (471)

Four Ball Wear Test
(ASTM D-4172B: 40 kgf, 75°C, 1200 rpm, 1 hr), Scar, mm

0.39

Noack Volatility, % weight loss (g/100g) (ASTM D-5800)

8.0

Shear Stability Kurt Orbahn (ASTM D-6278),
% viscosity change 90 cycles.

<3.0

High-Temperature/High-Shear Viscosity,
150ºC, 1.4x106s-1, cP (ASTM D-5481)

3.0