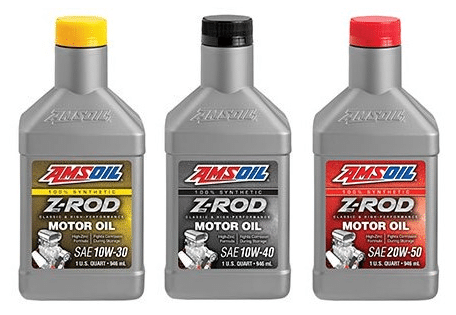 Now also available in 10W-40. High zinc & phosphorous content for classic cars & street rods. Ideal for flat-tappet cams or roller cams. Robust anti-rust protection for extended storage. 
Zinc Content: 1440 ppm,
Phosphorus Content: 1320 ppm
Z-Rod Motor Oil package sizes include: 1-Quart Bottle or Case of 12
Classic cars and street-rods have unique existence in the automotive spectrum as they tend to be in long-term storage for much of the year. When they are in service, they could be cruising in hot weather or even doing runs at the strip. They may also be powered by an engine with flat tappet cams. Simply put, older engines in this category require a motor oil that delivers maximum wear protection, seal conditioning agents and an anti-rust/corrosion additive package. AMSOIL Z-ROD 10W-30, 10W-40 and 20W-50 Synthetic Motor Oil has all of these attributes as it was designed specifically for older engines typical of classic cars. Z-ROD is also appropriate for highly modified, high horsepower engines.
Automotive engine oils carrying the very latest specifications are not equipped to protect your classic car. To be compatible with modern emissions equipment, oils designed for today's cars contain far less additives such as zinc and phosphorus. Older cars do not require the latest oil specifications. Why not use motor oil that can pull out the stops in terms of anti-wear additive content? For classic cars or street rods, Z-ROD Synthetic Motor Oil is vastly superior to off-the-shelf motor oils meant for new cars.
Is Synthetic Oil Compatible with Older Engines?
AMSOIL Z-ROD Synthetic Motor Oil is superior to regular engine oil in every possible way. Many assume that oil consumption will increase or leaks will develop in older engines. In reality, the opposite is true. A good synthetic will actually curb minor consumption issues. Z-ROD contains seal conditioning agents that keep seals and gaskets from drying out. These additives actually deliver a controlled seal swell to diminish the chance of new leaks developing. Z-ROD Synthetic Motor Oils are also highly resistant to extreme heat, even under racing conditions. So volatility is low and oil boil-off is dramatically reduced.
Engine Oil Designed For Flat-Tappet Cams
Classic engines equipped with flat-tappet cams are much more vulnerable to wear than those equipped with roller cams. Only an engine oil containing high levels of zinc and phosphorus can control the heat, friction and pressure generated by flat-tappet cams. AMSOIL Z-ROD Synthetic Motor Oil is loaded with these anti-wear agents to guard against camshaft wear. Z-ROD is also suitable for engines with roll cams.
Extended Storage Rust Prevention
When Z-ROD was in the design process, AMSOIL considered the fact that long-term anti-rust protection should be among the top priorities. AMSOIL borrows anti-rust and corrosion technology from their marine engine oils. This gives Z-ROD Synthetic Motor Oils the best possible capabilities to protect your engine internals during extended storage.
Applications
AMSOIL Z-ROD 10W-30, 10W-40 and 20W-50 Synthetic Motor Oil is suitable for classic engines, modified or racing engines. Use where the API SL, SJ, SH, SG, SF, SE, SD, SC, SB or SA motor oil specifications are suggested.
NOT suitable for newer applications requiring the API SM, API SN or newer specs. Z-ROD's high zinc levels may not be compatible with the emissions equipment of modern engines.
Mixing AMSOIL Z-Rod with Other Brands
AMSOIL Z-ROD 10W-30, 10W-40 and 20W50 Synthetic Motor Oils are compatible with all other brands of conventional and synthetic motor oils. While you can safely mix AMSOIL Synthetic Oil with other brands, this will reduce the drain interval and performance capabilities of AMSOIL Z-ROD.
The use of any aftermarket oil additives with Z-ROD is definitely not recommended.
Service Life of AMSOIL Z-ROD 10W-30, 10W-40 and 20W-50 Synthetic Motor Oil
For naturally aspirated engines, change AMSOIL Z-ROD 10W-30, 10W-40 or 20W50 Synthetic Motor Oil at 5000 miles (8000 km) or one year (whichever comes first). For engines equipped with blowers, turbo-chargers or employ the use of nitrous oxide, change Z-ROD Synthetic Motor Oil at 3000 miles (5000 km) or one year (whichever comes first).
To maximize the rust and corrosion protective capabilities of Z-ROD Synthetic Motor Oil, we recommend changing oil just prior to long-term storage.
How Can I Buy AMSOIL Z-ROD Synthetic Motor Oil?
Oildepot offers AMSOIL Z-ROD 10W-30, 10W-40 or 20W50 Synthetic Motor Oil for sale at wholesale in Canada or the United States. We can have Z-ROD shipped to your door at the lowest possible price from 2 warehouses in Canada and 11 in the USA. Contact us for a wholesale price list using the contact form on this page.
Specifications

AMSOIL Z-ROD 10W-30 (ZRT), 10W-40 (ZRD) & 20W-50 (ZRF) Synthetic Motor Oil
10W-30
10W-40
20W-50
Kinematic Viscosity @ 100°C, cSt (ASTM D-445)

11.8

14.9

19.3

Kinematic Viscosity @ 40°C, cSt (ASTM D-445)

74.9

97.3

140.3

Viscosity Index (ASTM D-2270)

152

159

157

Flash Point °C (°F) (COC) (ASTM D-92)

236 (457)

242 (468)

254 (490)

Fire Point °C (°F) (COC) (ASTM D-92)

268 (514)

260 (500)

270 (518)

Pour Point °C (°F) (ASTM D-97)

-46 (-51)

-39 (-38)

-40 (-40)

Noack Volatility, % weight loss  (ASTM D-5800)

5.5%

3.1%

4.0%

High Temperature/High Shear Viscosity
@ 150°C, 1.0 X 106 s.-1), cP (ASTM D-4172B)

3.6

4.3

5.2

Four Ball Wear Test @ 40 kgf, 75°C,
1200 rpm, 1 hour, scar diameter, mm (ASTM D-4172)

0.35

0.33

0.34

Total Base Number (ASTM D-2896)

9.1

9.0

9.1