Will A Gear Oil Change Cure Limited-Slip Differential Noise?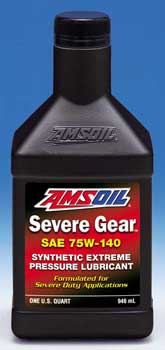 A reader asks: I've got a 2013 Ford F-150 with 86,000 miles. The rear differential has developed a chattering noise when taking slow corners. I have never changed the gear oil. This is a limited slip differential. Would changing the gear oil cure this noise?
Our answer: While we can't say for sure, it is possible that a gear oil change and fresh limited slip additive could cure this chatter noise. We have heard of situations where this has worked. The simplest possible option is to try changing gear oil and limited-slip additive first.
Of course, this is assuming that there is not a mechanical issue at play. Worn clutches and springs can also lead to limited-slip differential performance problems. In that case, new oil would not cure the issue.
What seems to happen in some cases is that the original gear oil and limited-slip friction modifier additive break down over time. This can allow the clutch packs to chatter during low-speed corners.
Our Best Gear Oil And Limited Slip Additive
We strongly recommend AMSOIL Severe Gear 75W-140 Synthetic Gear Oil and AMSOIL Slip Lock Differential Additive. AMSOIL Severe Gear is about the most robust gear oil money can buy. It offers superb wear control, long life and friction reduction. It performs very well in arctic cold or extreme southern heat.
AMSOIL Slip Lock is a high-quality replacement for OEM limited-slip additives. It provides reliable, quiet performance at a very reasonable price.
Once the oil is changed, take the truck to an open parking lot. Slowly drive the truck in a figure-8 pattern to burnish the Slip Lock additive into the limited-slip clutch packs. You will soon see if this oil change has cured your issue.
Helpful Installation Tips
Installing gear oil in a differential can be an awkward and messy process. We have a couple of solutions that can make life much easier. The first is AMSOIL's ingenious "Easy-Pack" container option. The "drink-box-inspired" Easy-Pack allows you to squeeze the oil directly into the differential, regardless of how cramped the location.
The other helpful solution is the AMSOIL Hand-Pump For Bottles. This kit allows you to pump oil out of quart, gallon or 2.5-gallon bottles. This inexpensive kit will come in very handy in your garage.
We certainly hope that your differential issue is not something more serious. A differential oil change is an inexpensive solution that could very well do the trick. At this point in your vehicle's life, it's definitely time to change the factory differential oil anyway.
We can sell AMSOIL Synthetic Gear Oils at wholesale prices in Canada and the US. Contact us using the form on this page for a wholesale price list.