Which Oil And Filter For Mercury MerCruiser 8.2L H.0. MAG Engine?
A reader asks: I've got twin 2013 Mercury MerCruiser 8.2L H.0. MAG inboard engines in my boat. This engine does not show up in the AMSOIL application guide. Can you recommend an AMSOIL motor oil and oil filter for this engine?
Our answer: While it's true that MerCruiser engines are not included in the "Marine" section of AMSOIL's online application guide (for some reason), we can provide a couple of motor oil options as well as an oil filter recommendation for your 8.2L H.O. MAG engines.
Engine Oil Options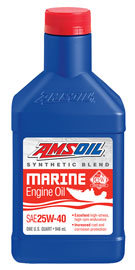 The first option we would suggest is AMSOIL's brand new Synthetic-Blend 25W-40 Marine Oil. This motor oil was engineered specifically for Mercury/MerCruiser motors. Marine engines are routinely put under tremendous strain and this new 25W-40 is designed to provide consistent and long-lasting wear protection. This AMSOIL 25W-40 is a cost-effective upgrade for Mercury Synthetic-Blend SAE 25W-40 Marine Engine Oil.
If you would prefer a 100% synthetic option, have a look at AMSOIL 10W-40 4-Stroke Marine Synthetic Motor Oil. This 10W-40 is a highly suitable replacement for any 25W-40 marine oil. It offers all of the wear control, shear stability and extreme heat resistance required for your MerCruiser engines in a high-tech, full-synthetic package. If you want a full-synthetic oil over a semi-syn for your engine, this is your best bet.
Does AMSOIL Offer A Full-Synthetic 25W-40?
AMSOIL offers only the synthetic-blend 25W-40. Mercury markets only a semi-synthetic 25W-40 for their engines, so AMSOIL wanted to provide a product that was easily recognized as a Mercury alternative. There is absolutely no technical reason to use only a synthetic blend in these engines. We're quite sure that Mercury did this to keep motor oil input costs down. Prior to the release of this new AMSOIL semi-synthetic 25W-40, AMSOIL suggested the 100% synthetic 10W-40 4-Stroke Marine Synthetic Motor Oil for all Mercury applications requiring 25W-40 motor oil. The 10W-40 is an outstanding shear-stable option, but as Mercury owners were looking for 25W-40 and were unsure about a 10W-40 (despite the fact that it is an outstanding substitute), AMSOIL created the new 25W-40.
The bottom line is that either option is perfectly fine. Have a look at our pricing and choose from there.
Oil Filter For MerCruiser 8.2L H.O. Engine
The oil filter that is compatible with your Mercruiser 8.2L H.O. engines is the AMSOIL EAO-59. The AMSOIL EAO oil filter line is robust, durable and among the most efficient on the market. AMSOIL EAO Oil Filters are built with superb components making them a great match for your MerCruisers.
We can provide oil and filters at wholesale prices for your Mercruiser engine in both Canada and the United States. Contact us for pricing information using the form on this page of call us at 1-800-748-5781.