What Can Replace Mercury 25W-40 Marine Engine Oil?
Update May 2016: We now offer a semi-synthetic 25W-40 oil for Mercury Marine engines.
Update: If you have a Mercruiser engine with flat tappet cams, read this.
If you are looking for a high-quality replacement for Mercury or Quicksilver 25W-40 engine oil in your MerCruiser stern drive or inboard engine, we have the ultimate substitute. AMSOIL 10W-40 Formula 4-Stroke Marine Synthetic Motor Oil replaces all all conventional, semi-synthetic and synthetic 25W-40 marine engine oil formulas.
Why Does Mercury Recommend a "25W-40" Motor Oil?
We wondered the same thing and we'll offer 3 opinions on this.
First off, marine engines generally start in mild weather, so a "25W" oil would not be a hindrance for most start-up situations.
Secondly, something caught our eye in Mercury's  description of their MerCruiser conventional 25W-40 product. One of the features listed: "Multi-viscosity 25W-40 oil formulated to eliminate thermal breakdown (no viscosity improvers necessary) under extreme temperatures and loads."
"Viscosity improvers" are temperature-sensitive additives that prevent an oil from thinning out at high temperatures. Think of microscopic springs that stretch out as the oil temperature rises, slowing down the rate in which the oil loses viscosity. This is the only function of viscosity improvers. They bring nothing to the table in terms of actual lubrication.
The downside to using viscosity improvers  is that they are prone to mechanical shear. Over time they will shear down which compromises the engine oil's ability to maintain its viscosity. The result can also be decreased wear control, oil consumption and depositing.
So back to Mercury's declaration about not using viscosity improvers.  The stretch between "25W" (viscosity at low temperature)  and "40" (high temperature viscosity) is not a big one. Were they producing a 10W-40 or 15W-40, they may have to use either a higher grade of base oils and additives or add viscosity improvers. This is not to suggest that Mercury is using sub-par ingredients, but not adding viscosity index improvers to a "25W-40" is not a huge accomplishment. The bottom line is that by specifying this slim 25W-40 multi-viscosity range, it is much easier to produce a competent product with lower input costs.
None of AMSOIL's high-quality synthetic engine oils employ the use of viscosity improvors.  When high quality base oils and additives are used, viscosity improvers are unnecessary, regardless of the viscosity.
The third reason we suspect that Mercury suggests an odd-ball viscosity like 25W-40 is that it's not one you see everywhere. As it is relatively unique, Mercury customers may feel that it is safer to seek out the OEM product rather than take a chance on  aftermarket brands with a different viscosity number on the bottle. We have seen this ruse before with Polaris's bizarre 2W-50 four-stroke engine oil for ATV's and snowmobiles.
Why use AMSOIL 10W-40 Formula 4-Stroke Marine in place of Mercury 25W-40?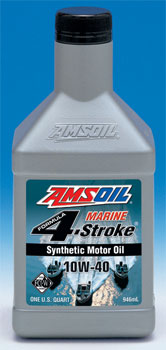 There is no downside to using this 10W-40 in Mercury applications. Remember that the "10W" signifies the oil's viscosity at start-up, so you may actually have improved protection at start-up. At high operating temperatures, this oil is a 40 weight, so there is unsurpassed viscosity protection through a very wide temperature range.
AMSOIL 10W-40 Formula 4-Stroke Marine Synthetic Motor Oil contains the best anti-wear base oils and additives on the market. This oil can withstand extended periods of high RPM, high temperatures and extreme loads.
AMSOIL 10W-40 Marine carries the National Marine Manufacturers Association (NMMA) "FC-W"  (Four-Cycle Water) specification. This makes this product warranty-approved by four-stroke outboard/marine manufacturers.
A marine engine oil also has a job to do in the off-season and that is to prevent rust and corrosion. AMSOIL Formula-Stroke Marine Oils contain a stout anti-rust component that combats corrosion during storage and extended periods of downtime.
Last but not least, we can offer this product at a great price! Check out our wholesale options.
AMSOIL Formula 4-Stroke Marine Synthetic Motor Oil is available in 10W-40 and 10W-30.
We offer the complete line of high-performance AMSOIL Marine Products.