We've Got dexos1 0W-20 Motor Oil For Your 2014 GM or Chevy Truck
If you have recently purchased a 2014 GMC Sierra 1500 or Chevrolet Silverado 1500 pickup with a 5.3L or 6.2L V-8 engine, you may have been surprised to see that your truck requires 0W-20 motor oil. Specifically what is required is 0w-20 engine oil that meets the requirements of the GM dexos1 specification. This may come as a shock to faithful GM truck owners that have been using 5W-30 forever.
Note that GM still requires 5W-30 engine oil in 2014 pickup trucks equipped with their 4.3L V-6 engine option.
We Offer 3 Different GM dexos1 Synthetic 0W-20 Engine Oil Formulas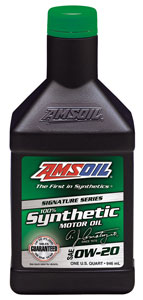 AMSOIL Signature Series Synthetic 0W-20 Motor Oil
This is one of the world's most elite 0W-20 synthetic formulas that meets the dexos1 requirements. The Signature Series is the culmination of AMSOIL's 40 years of experience in the synthetic oil business. The result is an engine oil that can easily withstand long service intervals, lowers friction, equally capable in extreme heat or cold, combats wear and minimizes oil usage.
AMSOIL XL Series 0W-20 Synthetic Motor Oil
AMSOIL's XL Series 0W-20 is fortified with robust additives to offer outstanding wear control and withstand long service intervals as required by the dexos1 specification. Expect clean engine internals and consistent wear control for the entirety of your oil change period.
AMSOIL OE Series 0W-20 Synthetic Motor Oil
AMSOIL OE Series 0W-20 is one of the best values on the market. OE 0W-20 is ideal for cost-conscious motorists or fleets owners needing steady service from mile one until the oil life meter tells you that "it's time". OE 0W-20 delivers all of the value you expect from a dexos1 synthetic oil, at a low price that may surprise you.
We have wholesale programs available for personal use, retail resale and commercial/fleet use. Request a price list using the form on your upper right. We ship from 2 warehouses in Canada and 11 locations in the United States.
What is GM dexos1?
GM came out with the "dexos1" engine oil specification in 2010. Aside from the actual formula guidelines, here are some of the attributes that an engine oil must to possess to meet the dexos1 requirements:
High level of friction lowering additives for optimized fuel mileage throughout the service interval.
Capacity to extend drain intervals.
Resistance to foaming and aeration in order to function properly with GM engine management systems.
Must possess a high resistance to varnish and deposit formation.
Resistance to oil volatility to reduce oil consumption and emissions.
Is 0W-20 Motor Oil Too Thin?
Definitely not! The industry has been gravitating toward 20-weight motor oil (5W-20 at first) since the early 2000's. There has not been an acceleration of engine wear with this change at all and many were certainly skeptical at first. The reason GM opted for 0W-20 motor oil is to maximize cold-start-up protection.
Will I See Increased Oil Usage With a 0W-20 Motor Oil?
We use the Signature Series 0W-20 in our Honda Ridgeline daily driver because we want the best possible oil flow at start-up. Honda specifies a 5W-20, but 0W-20 is an acceptable substitute. We do not add a single drop of oil between oil changes. The level stays firm at the top of the stick for the duration. If your engine is sound, you will not see accelerated oil consumption with dexos1 0W-20 motor oil.