A reader asks: I am looking for a two-stroke injector oil that is the same quality as the Evinrude XD50 Synthetic Blend 2-Cycle Oil. Is AMSOIL HP Marine the closest match? I've got an older outboard, but still looking for a decent injector oil.
Our answer: A fairer comparison would be AMSOIL HP Marine to the full-synthetic Evinrude XD100 2-Cycle Oil. HP Marine will definitely be an upgrade over the semi-syn XD50.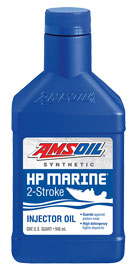 HP Marine is a 100% synthetic 2-stroke oil and is very much an elite product. It is at the pinnacle of two-cycle oil technology. The best part is that at our wholesale prices, it can be less expensive than the synthetic-blend XD50 oil.
AMSOIL has performed extensive testing in Evinrude ETEC engines versus XD100 and the results were very impressive. Even using the "lean setting" in ETEC, HP Marine delivered superb wear protection.
Some may consider HP Marine to be overkill in an older outboard. We would suggest that it's low-deposit, low smoke, clean burning, low friction contributions would be welcome in any outboard engine. But we do have another option.
An Even Less Expensive Full Synthetic Option To XD50
For those wanting an even less expensive option for older outboard engines, we do have another full-synthetic 2-stroke oil. AMSOIL Synthetic 2-Stroke Injector Oil offers features like low smoke/odor, optimum throttle response and synthetic wear control. It is suitable for DFI (direct fuel injection) outboard engines, as well as older snowmobiles or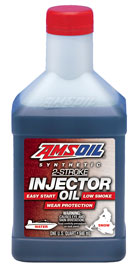 personal watercraft. This Synthetic 2-Stroke Injector Oil is a great value and a top-notch performer in older 2-stroke outboards.
Conclusion
Either AMSOIL HP Marine or Synthetic 2-Stroke Injector Oil would be an upgrade over Evinrude XD50 Synthetic Blend 2-Cycle Oil. Both AMSOIL products can deliver a performance upgrade at a better price (with our wholesale programs) than the oils found at Evinrude dealers.
Contact us for a wholesale price list using the form on this page. We can ship synthetic outboard 2-cycle oil to any location in Canada or the United States at a great price.