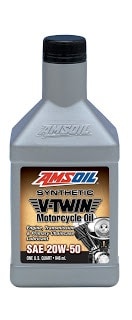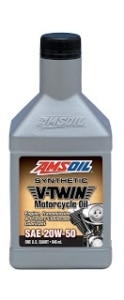 Over the years, we've posted a number of articles discussing the use of synthetic oil in Harley-Davidson motorcycles. Here are all of the links to these articles on one page.
If you have questions on any of this content, feel free to give a us a call or contact us using the form on this page.
Engine Oil
The Classic AMSOIL V-Twin 20W-50 Torture Test
A few years ago, AMSOIL performed a landmark test to see how V-Twin Synthetic 20W-50 stood up to extreme heat. In a dyno room with no moving air, they ran a 2012 Dyna Street Bob until the engine temperature reached 550°F. The results were staggering.
Is Synthetic Oil Compatible With Harley-Davidson Cam Roller Bearings?
The myth that synthetic oil causes Harley-Davidson cam roller bearings to "slide", "slip", "float" or "skate" refuses to die. We still hear it to this day. This article discusses the misconception that started this rumor.
Price Comparison Of Harley Screamin' Eagle SYN3 vs. AMSOIL V-Twin 20W-50
This article does a cost-analysis of AMSOIL V-Twin 20W-50 versus Harley Screamin' Eagle SYN3 20W-50. The numbers were updated for the 2020 season.
AMSOIL Releases Updated Oil Change Kits For H-D Twin Cam and Milwaukee-8 Engines
For the 2020 season, AMSOIL released updated oil change kits for the Twin-Cam and Milwaukee-Eight engines.
AMSOIL Synthetic Oil Options For The Milwaukee-8 Engine
Here we discuss the introduction of the Milwaukee-Eight engine. We also recommend AMSOIL products for the engine, filter, primary chain-case and transmission.
When To Switch To Synthetic Oil In Harley-Davidson Milwaukee-8 Engine
A reader wonders when they can safely switch to synthetic oil in a new Harley Milwaukee-Eight engine. We discuss when to change the factory-fill oils and replace with synthetic oil.
Can Synthetic Oil Cure Valve Tick In A Harley Milwaukee-8 Engine?
A Milwaukee-Eight owner is hearing a valve-train noise. They wonder if AMSOIL V-Twin Synthetic 20W-50 will cure the noise. We cite some customer feedback on this issue.
Should A Thicker Oil Be Used In Extreme Heat? 
Does an SAE 60 engine oil offer better protection than 20W-50 in hot climates?
Can You Switch To Synthetic Oil In An Older Harley-Davidson Engine? 
Will synthetic oil cause problems or leaks in an older engine? What are the benefits?
Primary And Transmission
AMSOIL Introduces Dedicated V-Twin Primary And Transmission Oils
This 2015 article discusses AMSOIL's introduction of dedicated Primary and Transmission Fluid for Harley Davidson motorcycles. Here is the rundown including how the viscosity of each product compares to V-Twin 20W-50.
Synthetic Oil Options For Harley Primary And Transmission
A reader wonders about the best AMSOIL synthetic oil options for his Harley-Davidson transmission and primary. We go through the options in detail.
Is ATF Suitable For Harley-Davidson Primary Chaincase Use?
Should automotive automatic transmission fluid (ATF) be used in Harley-Davidson primary chaincases? This article covers where this practice originated and details the pros and cons.
Should 75W-140 Gear Oil Be Used In Harley-Davidson Transmissions? 
Here are the pros and cons of running a thicker 75W-140 gear oil in Harley transmissions. We also show a comparison of the viscosity numbers of 20W-50 engine oil and dedicated V-Twin transmission oil.
Can You Switch From Synthetic Oil Back To Conventional Oil In A Harley?
Once synthetic oil has been used in a motorcycle transmission, primary or engine, can you go back to conventional oil again?
Oil Filter
Do Harley Oil Filters Actually Filter Down To 5-Microns?
Harley-Davidson markets their oil filters as "5-micron". Do they really stop all particles down to 5-microns? We discuss AMSOIL and Harley-Davidson's micron ratings. Harley's actual micron-rating is not what you might expect and we explain why.
Why Did Harley-Davidson Bring Out A Longer Oil Filter For the Milwaukee-8 Engine?
Harley-Davidson released a new oil filter for the Milwaukee-Eight engine that is ½" longer than the previous filter. We discuss why the new filter was released and whether or not a longer filter is vital to this engine.
Does A Motorcycle Oil Filter's By-pass Spring Setting Matter?  
We discuss the by-pass spring pressure setting number for AMSOIL's Harley-Davidson oil filters. Should this factor be a consideration when shopping for an oil filter for your motorcycle?
K&N Versus AMSOIL Oil Filters
K&N and AMSOIL are two of the most reputable oil filter makers in the motorcycle space. This article discusses the features and (most importantly) the filtering ability of K&N and AMSOIL automotive and motorcycle oil filters.