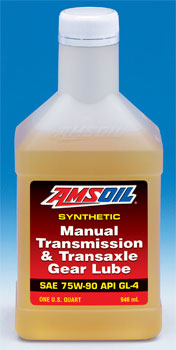 A reader asks: I've got a Dodge Ram 3500 with the NV4500 5-speed transmission. I would like to change the fluid, but the Castrol Syntorq LT oil is (apparently) no longer available. The Mopar Synthetic Manual Transmission Lubricant is very expensive. Does AMSOIL offer a transmission fluid that is compatible with the NV4500's carbon fiber synchro rings?
Our answer: Yes, we offer the AMSOIL Synthetic 75W-90 Manual Transmission & Transaxle Gear Lube (product code: MTG). MTG 75W90 meets the API GL-4 and Chrysler/Dodge/Mopar MS-9070 specifications. This product is fully compatible with the carbon fiber synchro rings found in the New Venture NV4500 transmission.
This is an elite-quality synthetic fluid that is readily available from our 11 warehouses is the United States and 2 warehouses in Canada. We sell AMSOIL MTG 75W-90 at a price that is generally much lower than the OEM NV4500 transmission oil found at Chrysler and GM dealerships. Contact us for pricing using the form on this page. 
Which NV4500 Fluids Will AMSOIL MTG 75W-90 Replace?
This AMSOIL Synthetic 75W-90 Manual Transmission & Transaxle Gear Lube replaces 75W-85 and 75W-90 fluids. It is a high-quality substitute for the following NV4500-compatible fluids.
Castrol Syntorq LT
Mopar 75W-85 GL-4 Synthetic Manual Transmission Lubricant (part # 4874459)
GM Goodwrench or AC Delco Synthetic Manual Transmission Fluid 75W-85 GL-4 (GM USA part #12346190, GM Canada part # 10953477)
About AMSOIL Synthetic 75W-90 Manual Transmission & Transaxle Gear Lube
Withstands extreme heat and heavy loads
Reduces friction for smooth shifts
Flows down to -65°F (-54°C) for excellent winter performance
Conditions seals
Safe for carbon fiber and brass components
Overbuilt for long service life
Available for immediate shipment at a great price
New Venture NV4500 Applications
The NV4500 was a popular manual transmission option in various Dodge/Ram 2500 and 3500 heavy-duty pick-ups from 1992 through 2005. The NV4500 was also found in various General Motors 2500 and 3500 pick-up trucks from 1991 to 2007.
Today, the aftermarket offers adapter kits that allow the installation of reconditioned NV4500 transmissions in modern pick-ups, Jeeps and off-road vehicles.