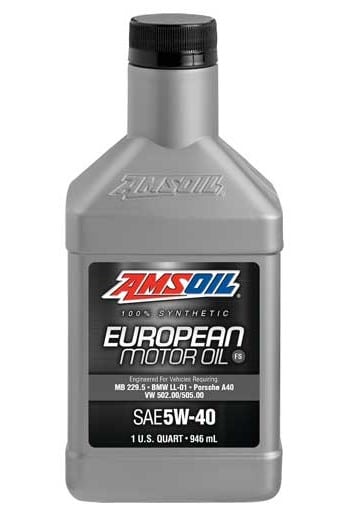 Update– EcoDiesel Motor Oil Information For 2014-2022 Models
The 3.0L EcoDiesel engine has been redesigned for 2020-21. Therefore, these motors now require a different motor oil type. The new third generation EcoDiesel motor will require a 5W-40 motor oil meeting the FCA MS-12991 standard. This new diesel engine is an option for Ram 1500, Jeep Gladiator and Jeep Wrangler models.
We can offer AMSOIL European Formula FS 5W-40 Synthetic Motor Oil for Gen 3 EcoDiesel Engines. This product meets the FCA/Chrysler MS-12991 specification.
The previous generation of EcoDiesel engines (2014-2018) required the use of heavy-duty 5W-40 diesel oil meeting the MS-10902 standard.
About The Chrysler MS-12991 Motor Oil Specification
MS-12991 is not a new motor oil specification and was not conceived specifically for the Gen 3 EcoDiesel motor.  It has been around since at least 2012. The Fiat 1.4L Turbo-charged MultiAir gasoline engine first required motor oil meeting this spec. This engine was found in the Fiat 500 starting in 2014 and Jeep Renegade starting in 2015.
This AMSOIL European FS 5W-40 has met the MS-12991 standard since 2013.
About AMSOIL European Formula FS 5W-40 Synthetic Motor Oil
The formulation of AMSOIL FS 5W-40 is 100% synthetic and has "Full-SAPS" (sulfated ash, phosphorus, sulfur). It meets the additive requirements of the FCA MS-12991 motor oil standard. "SAPS" levels are a common consideration in the European motor oil category.
AMSOIL European FS Synthetic 5W-40 offers protection against extreme heat and delivers superb turbo-charger protection. This oil is fortified with a healthy zinc level to fortify wear control. The 100% synthetic formula also delivers fast winter start-up protection. AMSOIL formulated this product with a robust detergent package to keep engine internals clean.
Note that AMSOIL has not listed the FCA MS-12991 specification on the product label at this time. We expect that this will occur in the coming months. AMSOIL Inc. supports the use of European FS Synthetic 5W-40 in applications requiring a motor oil with the FCA MS-12991 spec.
We can sell AMSOIL European Formula FS 5W-40 Synthetic Motor Oil at wholesale prices in Canada and the USA. Contact us for a price list using the form on this page.