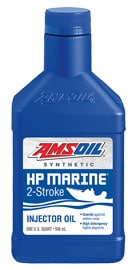 A reader asks: I've got a Mercury Optimax 150 outboard motor. Do you have a substitute for Mercury Optimax 2-Stroke Oil?
Our answer: Yes, we most certainly do. AMSOIL HP Marine Synthetic 2-Cycle Injector Oil is a world-class outboard 2-stroke engine oil. We contend that this product is an upgrade over the synthetic-blend Optimax 2-Cycle Oil from Mercury. We can offer this product at a price that is lower than Optimax oil in many cases.
Why Mercury Optimax Motors Require A Quality Injector Oil
Mercury Optimax engines are direct-injected motors that utilize fairly sophisticated technology. The hallmark of the Optimax system is the injection of atomized fuel-air mixture into the combustion chamber (rather than fuel only). The injected fuel droplets can be smaller than 5 microns at low-RPM.
Optimax motors also enhance efficiency by varying the fuel/oil ratio depending on RPM and load. At full throttle, the mix can be as rich as 44:1. At low RPM, the mix rate is as lean as 400:1. Therefore, not just any 2-cycle injector oil is up to the task.
Optimax engines also require an oil with a strong detergent content. Above all, prevention of engine deposits is paramount for maintaining proper performance and efficiency.
About AMSOIL HP Marine
AMSOIL HP Marine Synthetic 2-Stroke Injector Oil is a top-tier product designed for modern DFI 2-cycle outboard motors. The full-synthetic formula and robust additive ingredients provide maximum protection in direct-fuel-injected (DFI) motors. Modern 2-stroke motors like Mercury Optimax and Evinrude E-TEC can operate with ultra-lean mix ratios. HP Marine delivers maximum wear protection under these harsh operating conditions.
This product also provides powerful detergents, keeping engine internals and exhaust ports clean. HP Marine offers low aquatic toxicity along with minimal exhaust smoke and odor.
HP Marine is also backward compatible with older 2-cycle outboard motors.
Where to Buy AMSOIL HP Marine Synthetic 2-Stroke Oil?
Oildepot can offer HP Marine at wholesale prices in the US and Canada. Contact us for wholesale price list using the form on this page. If you have questions, feel free to call us at 1-800-748-5781.