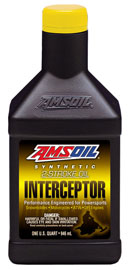 AMSOIL Interceptor Synthetic 2-Stroke Oil now meets and exceeds the requirements for the JASO FD industry specification. Why does this matter? Ski-Doo recently started recommending the use of JASO FD-compliant 2-stroke oils for their E-TEC snowmobile engines.
AMSOIL Interceptor has been extensively tested for use in Ski-Doo E-TEC engines. The addition of this spec further cements Interceptor's credentials as the ideal 2-stroke oil for E-TEC engines. We have received nothing but rave reviews about Interceptor from our E-TEC customers. Best of all, the 100% synthetic Interceptor is priced lower than Ski-Doo/BRP 2T E-TEC Synthetic Oil or BRP Synthetic 2-Stroke Oil.
What Is The "JASO FD" 2-Stroke Oil Specification?
JASO FD is a two-stroke oil industry specification set by the Japanese Automotive Standards Organization.
As with previous JASO two-stroke oil specs, JASO FD has a number of performance and smoke guidelines. This newest "FD" specification places a much greater emphasis on detergency and engine cleanliness.
How Is AMSOIL Interceptor Suitable For Ski-Doo E-TEC Engines?
The direct injection Ski-Doo E-TEC engine sets new standards in terms of fuel efficiency, low emissions and horsepower per cubic centimeter.
One of the main features of E-TEC engines is that they consume very little 2-stroke oil. A relatively small amount of oil is the difference between peak performance or an expensive engine failure. For this reason, E-TEC engines require a very advanced synthetic 2-stroke oil. AMSOIL Interceptor offers highly sophisticated synthetic anti-wear chemistry. Extensive testing in Ski-Doo E-TEC engines has proven that Interceptor provides outstanding wear control.
Another important oil requirement for E-TEC's is cleanliness. The precise E-TEC engines require very clean internals. This is the main reason why BRP is requiring the use of 2-stroke oils that meet the JASO FD spec. Interceptor has world-class cleaning ingredients that keep E-TEC engines operating at their peak. It also keeps RAVE variable exhaust power valves clean which optimizes performance. AMSOIL Interceptor's clean-burning performance exceeds the JASO FD requirements.
One of the special features of the E-TEC engine is a (mostly) one-pull start in extreme cold. AMSOIL Interceptor pours down to -56°C (-69°F) for instant cold-start oil flow.
Interceptor ticks all of the boxes for E-TEC use. It provides elite wear protection, high film strength, minimal friction, robust detergent ingredients and low-smoke.
In conclusion, Interceptor offers all of these features at a lower price than BRP 2T E-TEC Synthetic Oil.
Request wholesale pricing for AMSOIL Interceptor Synthetic 2-Stroke Oil using the contact form on this page.