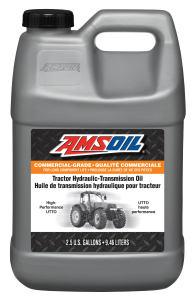 AMSOIL has released a brand-new addition to their "Commercial-Grade" oil series. New AMSOIL Commercial-Grade Tractor Hydraulic/Transmission Oil is designed for farm equipment and other machinery requiring a universal tractor transmission oil (UTTO).
Why Is AMSOIL Offering A New Tractor Hydraulic/Transmission Oil?
This product is part of AMSOIL's new semi-synthetic Commercial-Grade Series. The line is designed to have a moderate price tag, while delivering exceptional wear protection and performance. What is unique about this product is that it actually contains over 50% synthetic oil. Most all products billed as "synthetic-blends" contain less than 15% synthetic oil.
AMSOIL also built this product with a strong additive package to give it top-shelf performance and protective capabilities. It withstands extreme heat, while flowing down to -45°C (-49°F).
AMSOIL has offered a more expensive Synthetic Tractor Hydraulic/Transmission Oil for many years.
Where Can Commercial-Grade Tractor Hydraulic/Transmission Oil Be Used?
This product can be used in a multitude of applications requiring common industry specifications. These include John Deere J20C, several Case/New Holland/IH specs, CAT TO-2, Kubota UDT and many more.
Where Can I Buy AMSOIL Commercial-Grade Tractor Hydraulic/Transmission Oil?
Oildepot can sell this product at wholesale. Most farms are eligible for an AMSOIL Commercial wholesale account. Note that this is not a credit account. It simply allows you to buy AMSOIL products at dealer cost.
Request an AMSOIL wholesale price list using the form on this page or call us at 1-800-748-5781.