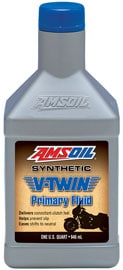 A reader asks: A shop did some work on my Harley-Davidson and filled my primary with synthetic oil. I have always used regular H-D oil. Can I drain it and replace with regular oil? Will this cause any problems?
Our answer: You can safely drain the synthetic oil and go back to conventional oil (but read all the way down before you do). There will not be any problems whatsoever. Synthetic and conventional oil can be substituted back and forth without any compatibly issues or mechanical risks. This holds true for engine, primary chain case or transmission oils.
However, we suggest that you give the synthetic oil a try before draining it. You will likely notice that it is easier to find neutral. It is also likely that you will experience smoother clutch performance and cooler primary temperatures.
We are huge advocates of synthetics oils in Harley-Davidson motorcycles. Our customer feedback tells us about performance boosts in every imaginable category. We offer two synthetic options for Harley-Davidson primary chain cases. They are AMSOIL V-Twin Synthetic Primary Fluid or AMSOIL V-Twin Synthetic 20W-50 Motorcycle Oil. There is no wrong answer between the two products. Each offers identical performance and wear protection. Some like the idea of a dedicated primary fluid, while others like the idea of keeping just the 20W-50 on hand for engine, primary and transmission.
In conclusion, give the synthetic fluid a chance and determine if you experience any improvements. You can go back to conventional oil at any time in the future.