The oil change interval for CVT transmissions varies for each automaker. Below is a list of car brands and models along with the suggested CVT fluid change schedule.
CVT fluid certainly wears out over time. It should be changed much sooner than automatic or manual transmission oil. CVT fluid has to be in acceptable condition to protect against metal-to-metal contact. It also has to provide the correct frictional properties. Once the CVT fluid has broken down, poor performance and accelerated wear can start.
CVT transmissions are very expensive to replace. Being mindful of regular CVT fluid changes will pay off in the long run.
In fact, changing fluid a bit earlier than the recommended interval is prudent for most motorists. This will help provide consistent operation and improved transmission longevity. If you intend to keep your car for a long time, it's a good idea to schedule regular CVT fluid changes.
List Of Cars And Their CVT Fluid Change Interval
Note that the recommendations below apply to models with CVT-type transmissions only. Service intervals are subject to change. Consult your car dealer for the latest recommendation for your model.
Chevrolet- Malibu, Spark- 45,000 miles (72,000 km)
Ford/Mercury- 60,000 miles (96,000 km)
Honda- Accord, Civic, CR-V, HR-V- 25,000 miles (40,000 km)
Hyundai- Elantra- 60,000 miles (96,000 km)
Infiniti- JX35, QX60- 30,000 miles (48,000 km) or 36 months, whichever comes first.
Kia- Soul, Forte, Rio- 60,000 miles (96,000 km)
Mitsubishi- Lancer, Mirage, Outlander, Eclipse Cross- 30,000 miles (48,000 km)
Nissan- Cube, Altima, Juke, Maxima, Micra, Murano, Pathfinder, Qashqai, Rogue, Sentra, X-Trail, Versa- 60,000 miles (96,000 km) /Severe service 30,000 miles (48,000 km) or 24 months, whichever comes first.
Subaru- Forester, Impreza, Legacy, Outback, XV Crosstrek, WRX- 60,000 miles (96,000 km) or 5 years whichever comes first.
Toyota- Corolla- 60,000 miles (96,000 km)
What Is Severe Service For CVT Transmissions?
Some vehicles are used in conditions that could be defined as "severe service". In those cases, consider changing the CVT fluid at half of the interval suggested by the car manufacturer.
Regular operation in the conditions shown below would be defined severe service.
Steep climbing
Operating in heavy mud or snow
Off-road use
Carrying heavy loads
Towing
Operating in a very hot climate
Why Should CVT Oil Be Changed?
CVT fluid is bombarded by extreme heat and shearing forces during its service life. Over time, the viscosity breaks down, the frictional properties decline and deposits may develop.
We have been told by customers that "shuddering" during deceleration and has been eliminated by fluid changes.
Why Use A Synthetic CVT Fluid?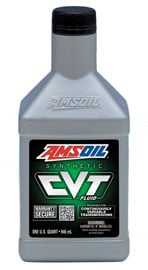 A synthetic CVT fluid should be used because it is highly resistant to the damaging effects of extreme heat. Many CVT designs are susceptible to damage from heat. Using a fluid that is able to withstand heat only makes sense.
When choosing a replacement CVT fluid, make sure to use only products that meet the specification suggested by your owner's manual.
We offer AMSOIL Synthetic CVT Fluid. It is truly an elite product and a considerable upgrade over original equipment CVT Fluids. It is also available at a price that is often lower than the CVT fluid found at your car dealership.
AMSOIL CVT Fluid is compatible with numerous popular industry specifications. We have received fantastic customer feedback on its performance capabilities. AMSOIL CVT Fluid resists transmission slippage, is very resistant to extreme heat. It meets most all of the original equipment CVT fluid standards. See the product page link for complete details.
Contact us using the form on this page for pricing and questions.