A reader asks: Can AMSOIL Engine & Transmission Flush be used in CVT transmissions? I've got a 2017 Nissan Altima. Wondering if this product will give my transmission a thorough cleaning?
Our answer: The short answer is no. AMSOIL Engine & Transmission Flush is NOT compatible with CVT transmissions (also known as "continuously variable transmissions"). This flush product is suitable for regular automatic transmissions and engines only.
CVT transmissions have very little in common with traditional automatic transmissions. This flush product is not compatible with the inners workings found in a CVT unit.
How To Prevent Deposits In A CVT Transmission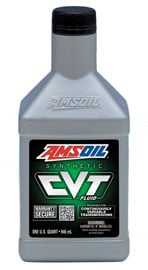 The first way to keep your CVT transmission clean and operating smoothly is to change the fluid on a regular basis. CVT oil needs to be changed more often than many would guess. See our article When To Change CVT Fluid In Your Brand Of Vehicle.
The second way to prevent deposits in CVT units is to use a good synthetic CVT oil. AMSOIL Synthetic CVT Fluid is highly resistant to fluid breakdown and extreme heat. This prevents the conditions that cause deposit formation in the first place.
In conclusion, changing your CVT fluid on a regular basis will prevent expensive repairs in the future. Using a good synthetic CVT fluid will protect against wear and deposits. It will also maintain consistent transmission performance.
We can sell AMSOIL Synthetic CVT Fluid at wholesale prices in Canada and the US. Contact us for a price list using the form on this page.