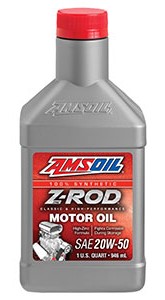 A reader asks: I am restoring a 1974 Triumph TR6 with the 2.5-liter engine. The engine is being completely rebuilt. Most importantly, I'm upgrading to full electronic sequential fuel injection and electronic ignition. This means that there will be O2 lambda sensors on the exhaust. Does this mean that I can't use a motor oil with high zinc? There will no catalytic converters in place.
Our answer: Your classic Triumph engine would still be best protected by a motor oil with high-zinc (also called ZDDP) content. Motor oil with high-zinc and phosphorus ingredients pose no risk to oxygen sensors. So, there is plenty of upside for valvetrain protection, but no downside in terms of O2 sensor compatibility.
Even if your car had catalytic converters, the risk of problems from your engine oil's zinc ingredients would be could be relatively low.
Our best motor oil option is AMSOIL Z-ROD Synthetic Motor Oil Series. Z-ROD contains 1440 ppm of zinc and 1320 ppm of phosphorus. Therefore, it delivers the best possible protection for either flat tappet cams or roller cams in classic engines. Not only does Z-ROD deliver the best possible wear protection in vintage engines, it also offers world-class rust and corrosion protection. Therefore, it's also delivering protection during extended storage periods.
The Z-ROD Series was designed from the ground up for classic cars and street rods. It is available in 10W-30, 10W-40 or 20W-50.
Where To Buy AMSOIL Z-ROD Motor Oil For Classic Cars?
Oildepot can offer AMSOIL Z-ROD Motor Oil to classic car enthusiasts at wholesale prices. Contact us for a wholesale price list using the form on this page or call us at 1-800-748-5781.