Saber Outboard Premix can easily be replaced with other quality AMSOIL synthetic 2-cycle oils. 
AMSOIL has discontinued Saber Outboard Synthetic 2-Stroke Premix Oil in Canada because of low sales. But fear not, AMSOIL has two other synthetic oils that are fantastic substitutes for Saber Outboard in 2-cycle outboard engines. Both of the products shown below will perform as well or better than Saber Outboard.
AMSOIL Saber Outboard Replacements
AMSOIL Synthetic 2-Stroke Injector Oil
While this product is is called an "Injector Oil", it is also designed to be used as a 50:1 premix. Synthetic 2-Stroke Injector Oil is AMSOIL's value-priced synthetic 2-stroke oil. This product would be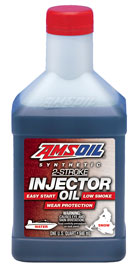 a great option for older outboard engines. Here are the features and benefits of AMSOIL Synthetic 2-Stroke Injector Oil.
Versatile- ideal for outboard engines, snowmobiles, personal watercraft
Suitable for direct injection engines
Provides exceptional wear control
Contains anti-rust and corrosion ingredients
Provides clean engine internals
Low-smoke formula
HP Marine is AMSOIL's premium synthetic 2-stroke marine engine oil. Pre-mix at 50:1 or use in oil injection engines. Here are the features of AMSOIL HP Marine.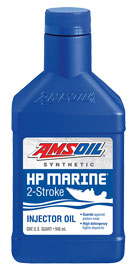 Ultra-low friction formula
Maximum deposit prevention
Also suitable for modern DFI engines including the Evinrude E-TEC
Low aquatic toxicity, odor and smoke
Prevents internal rust and corrosion
If you have questions, feel free to contact us using the form on this page or call us at 1-800-748-5781. We can sell AMSOIL synthetic 2-stroke oil at dealer cost in Canada and the United States.