A reader asks: I've got a 2015 Ski-Doo Summit X 800R with a BoonDocker turbo kit. BoonDocker suggests their T2C 2-Stroke Injector Oil. I'd like to go with an AMSOIL option. Would Dominator racing oil or Interceptor be suitable for turbo use?
Our answer: We would recommend Interceptor Synthetic 2-Stroke Oil, rather than the Dominator Racing 2-Stroke Oil for your turbo-charged E-TEC engine.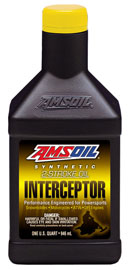 The main reason is cleanliness. Ski-Doo E-TEC engines are low-emissions and very high-tech. Clean engine internals and power valves are absolutely vital for proper operation. Interceptor is loaded with detergent additives. These additives prevent carbon and varnish deposits from forming. Interceptor has undergone exhaustive testing to prove its worth in Ski-Doo E-TEC engines. It is ideal for all of the latest 2-stroke motors.
Dominator 2-Stroke Oil is purely a racing oil. It is meant for engines that are frequently torn down. For that reason, it does not need to contain the level of detergents that would be preferable for E-TEC engines. Another vital factor is that snowmobile engines used for recreational riding may not run hot enough to completely burn Dominator's additive package. This may apply even to turbo-charged engines used in hard trail and mountain riding.
Interceptor will deliver exceptional wear control in turbo-charged 2-stroke engines. It would not be considered a "step down" from Dominator for this application.
Two-Stroke Oil For Turbo Kits With A Separate Oil Tank
Some 2-stroke snowmobile turbo-chargers receive oil directly from the stock oil injection system while some kits utilize an add-on oil tank. Two-stroke oil is often suggested as the turbo lubricant in these auxiliary tanks. AMSOIL Interceptor is an ideal product for use in these cases. One of the main requirements for turbo lubrication is fast flow in cold weather. Interceptor pours down to -56°C (-69°F). It provides consistent turbo bearing protection during cold weather.
AMSOIL Interceptor also offers a wide range of top-end features. These include low-smoke, world-class wear protection, low-friction, resistance to extreme heat, internal corrosion prevention and a competitive price tag.
Contact us using the form on this page for pricing on AMSOIL Interceptor 2-Stroke Snowmobile Oil. We now have free shipping on qualified orders!