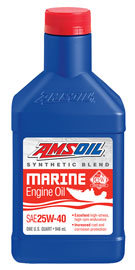 AMSOIL has released a brand new 25W-40 4-stroke marine engine oil for Mercury engines and we have it available for immediate delivery. The new AMSOIL Synthetic-Blend 25W-40 Marine Oil (product code: WCM) will be suitable for any Mercury Marine outboard, stern drive or inboard engine that requires a 25W-40 motor oil. This new 25W-40 meets the NMMA "FC-W Catalyst Compatible" specification, but is also suitable for engines that are not equipped with a catalyst.
Why Did AMSOIL Make A 25W-40?
In the past, AMSOIL had suggested their Synthetic 10W-40 Marine Motor Oil for Mercury and Mercruiser engines that required 25W-40 oil. As we explained in this article, AMSOIL's 10W-40 Synthetic Marine Oil is a highly capable and safe option that can easily replace Mercury 25W-40. The problem is that many consumers simply will not consider a 10W-40 product when they are looking for a 25W-40. This is especially true if they have warranty concerns. A 25W-40 would be the quick and safe choice for busy consumers, so it only makes sense for AMSOIL to have a Mercury-specific 25W-40 ready to go.
Why A Semi-Synthetic 25W-40?
With AMSOIL being almost exclusively a synthetic oil company, why would this product be a synthetic-blend? Mercury Marine owner's manuals specifically suggest the use of only semi-synthetic 25W-40 motor oil for many of their engines. To alleviate any warranty concerns, AMSOIL opted to make this product a semi-synthetic.
Mercury does not specify why a full synthetic oil is not suitable for their engines and frankly we don't believe that there is a legitimate reason. We don't know of any application where a full synthetic oil would be anything but a benefit. Our suspicion is that Mercury felt that a synthetic-blend oil would be an adequate product that met a reasonable price point. We don't think there is a justifiable mechanical reason behind this logic.
AMSOIL's Technical Department has always suggested a full synthetic oil for Mercury Marine engines. But in the case of this new 25W-40, rather than reinvent the wheel for consumers, they felt that a high-quality semi-synthetic 25W-40 oil would provide great service and be a viable choice for the average Mercury engine oil shopper.
Features and Benefits Of AMSOIL Synthetic-Blend 25W-40 Marine Oil
Robust anti-wear protection
Powerful anti-rust and corrosion protection
Suitable for catalyst and non-catalyst equipped engines
Outstanding shear resistance
Does not contain viscosity index improvers
Protects during heavy loads and high operating temps
How Is AMSOIL Synthetic-Blend 25W-40 Marine Oil Priced?
AMSOIL has priced this new 25W-40 priced similarly to the OEM Mercury Synthetic-Blend SAE 25W-40 Marine Engine Oil. We will submit that AMSOIL made a point of making a superior oil too. Check out our wholesale buying options for individuals or businesses. Request a wholesale price list with the form on this page and see how our high quality products are a great value.
Where to Buy How to Buy AMSOIL Synthetic-Blend 25W-40 Marine Oil?
Oildepot.ca can ship this new 25W-40 for Mercury Marine engines from Mississauga in Eastern Canada and Edmonton in Western Canada. We also ship from 11 warehouses in the United States. We can have a case of this new oil on your doorstep in just a day or two.
Can This New 25W-40 Be Used In Flat Tappet Cam Engines?
We would not suggest this new 25W-40 for older Mercruiser engines with flat tappet cam shafts. Some older Mercruiser engines such as the 5.7L (350 c.i.) produced by General Motors had flat tappet camshafts. Flat tappet cams require an engine oil with very high zinc levels. As this new 25W-40 oil is suitable for engines with catalytic converters, it will not have the zinc levels needed. High zinc levels are not compatible with catalytic converters. We offer a motor oil suggestion for flat tappet cam Mercruiser engines in this article.
The same logic applies to automotive motor oils. The latest passenger car motor oils do not contain enough zinc to protect older engines with flat tappet cams.
Other Oils Replaced By AMSOIL Synthetic-Blend 25W-40 Marine Oil
AMSOIL Synthetic-Blend 25W-40 Marine Oil is a high-quality substitute for the following marine engine oils.
Mercury Synthetic-Blend SAE 25W-40 Marine Engine Oil
Quicksilver 25W-40 4-Stroke Synthetic Blend Marine Engine Oil
Quicksilver 25W-40 4-Stroke Mineral Marine Engine Oil
Bel-Ray Marine 4-Stroke 25W-40 Engine Oil
Cabela's Signature Semi-Synthetic 25W-40 4-Cycle Oil
Lucas Stern Drive 25W-40 Inboard Engine Oil
Sierra 25W-40 Premium Blend 4-Stroke Marine Oil
Sierra 25W-40 Synthetic Blend 4-Stroke Marine Oil
Sierra 25W-40 Premium Blend Catalyst Compatible 4-Stroke Marine Oil
Starbrite Premium Synthetic Blend 25W-40 4-Stroke Engine Oil
West Marine Premium 4-Stroke Synthetic Blend 25W-40 Outboard Oil