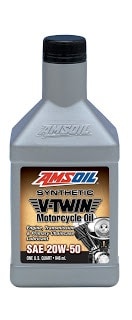 A reader asks: I've got a 2014 Harley-Davidson Road King. Is it OK to run SAE 60 oil in the engine rather than 20W-50? I'm thinking that a thicker oil would be better in on really hot days. I also hear that a thicker oil will quiet down engine noise.
Our answer: You are far better off using 20W-50. There is no upside to using SAE 60 in your engine.
A thicker oil like SAE 60 will actually retain more heat. The result will likely be higher operating temperatures with SAE 60, rather than lower. SAE 60 is fine for older Harley engines like the Knucklehead, Panhead and Shovelhead.
As for noise suppression, the thicker SAE 60 may suppress rattles or knocks. But that doesn't mean that it is providing superior engine protection.
All-in-all, there is no mechanical upside to switching to a thicker oil.
The Upside Of Running 20W-50
An ultra-premium synthetic like AMSOIL V-Twin 20W-50 will deliver lower operating temperatures over conventional oils. Better yet, it is designed to maintain its viscosity when exposed to long periods of extreme heat.
AMSOIL's testing has shown that V-Twin 20W-50 can withstand operation at 500°F while maintaining its original viscosity. See the AMSOIL V-Twin Torture Test. It will easily withstand long hours and heavy heat. So, if the concern is oil shearing, using a 20W-50 is not an issue.
Another upside to going with 20W-50 is lower friction. A good synthetic like AMSOIL will optimize throttle response and fuel economy.
What About Thicker Oil In The Transmission And Primary?
The same principles apply. Thicker oil will retain heat and is liable to cause stiffer shifting. Noise may be somewhat suppressed, but that doesn't meant that wear protection is enhanced.
One is wise to use products that are designed for primary and transmission use. AMSOIL V-Twin 20W-50 is formulated for use in the transmission and primary chaincase. AMSOIL also offers dedicated primary and transmission fluids for Harley V-Twins. There is no downside to using the V-Twin 20W-50 is all three components. Either the dedicated fluids or the V-Twin 20W-50 will work extremely well.
Conclusion: It is always wise to use the viscosity suggested for your application. Your engine was engineered for 20W-50 and there is no the upside to going with thicker oil. SAE 60 may actually provide the opposite of what you are hoping for.
See all of our articles about Harley-Davidson Motorcycles And Oil