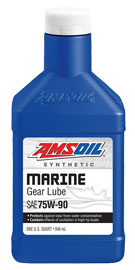 A cost-effective performance and preventative maintenance measure for your boat. Compatible with every type of marine drive or transmission requiring either 75W-90 or 80W-90 gear oil. Provides world-class gear protection and foaming resistance, even when contaminated with water. Also ideal for ATV and off-road differentials that are frequently exposed to water.
AMSOIL Marine Gear Lube package sizes include: 1- 295 ml (3-oz.) Tube (or buy case of 6) 1-946 ml (US Quart) Bottle (or buy case of 12) 1-946 ml (US Quart) Easy Pack (or buy case of 12) 5-US Gallon Pail, 16-US Gallon Keg, 30 or 55-US Gallon Drum
AMSOIL Synthetic 75W-90 Marine Gear Lube Now In Convenient "Easy Pack" Format
Features and Benefits of AMSOIL Synthetic 75W-90 Marine Gear Lube
Withstands up to 10% water content
Reduces friction for improved performance
Inhibits rust during downtime and storage
Conditions and preserves seals
Suitable for lake or sea water
Ideal for boats or ATV's
Suitable Applications for AMSOIL Synthetic 75W-90 Marine Gear Lube
Ideal for any marine or off-road application suggesting 75W-90 or 80W-90 gear oil with the API GL-5 or GL-4 specification including:
Outboard lower units
Sterndrives
V-drives
Bow and tunnel thrusters
Marine transmissions
ATV differentials
Off-Road differentials or gearboxes
Outboard lower unit makes include:
Mercury
Johnson/Evinrude
Bombardier
Honda
Yamaha
Suzuki
Force/US Marine
Nissan
Tohatsu
Harbormaster Marine Outboard Drives
Sears Gamefisher and Seagull
Sterndrive makes include:
Mercruiser-Bravo
OMC/Bombardier
Volvo-Penta
Yanmar
Konrad
Marine Drive Systems
V-Drive makes include:
Casale and Menkens
Bow & Tunnel Thrusters makes include:
Harbormaster Marine
Marine Transmissions:
Endures Water Infiltration
One of the biggest advantages of AMSOIL Synthetic 75W-90 Marine Gear Lube is its ability to maintain protection and resist oil foaming, even when the oil takes on water. Even when contaminated with up to 10% water by volume, AMSOIL Marine Gear Lube delivers full protection.
In fact, AMSOIL has performed extreme pressure wear testing and foam stability testing with brand new oil and batches mixed with 10% water. The test results with brand new oil and contaminated oil yield exactly the same result. That is valuable protection.
Reduces Friction for Wear Resistance and Improved Performance
AMSOIL puts their four decades of synthetic gear oil experience into this Marine Gear Lube. This product is formulated with 100% synthetic base oils along with anti-wear and friction-fighting additives. The result is a gear oil that can withstand extreme loads and sudden bursts of torque. AMSOIL Marine Gear Lube is designed to resist thinning and maintain its viscosity all season long.
Installation and Service Interval Recommendations for AMSOIL Marine Gear Lube
We recommend the installation of new oil at the end of each season. If the gear lube is has taken on water, it is far better to remove it at the end of the season rather than allow it to promote corrosion during the off-season.
Change AMSOIL Marine Gear Lube at the interval as prescribed by the engine or craft manufacturer.
Oildepot Hint
If you choose the quart bottle size rather than the 13 oz. tube, our handy marine oil pump is ideal for the installation of marine gear lube into many configurations of marine gear units. It fits directly onto the quart bottles for clean and fast oil transfer. This inexpensive pump will become a valuable helper when it comes time to service your boat.
Mixing AMSOIL Synthetic 75W-90 Marine Gear Lube with Other Brands
AMSOIL Synthetic 75W-90 Marine Gear Lube is compatible with all other brands of conventional, semi-synthetic and synthetic marine gear oils. While you can safely mix AMSOIL Marine Gear Lube with other brands, this will reduce the drain interval and performance capabilities of this gear oil.
The use of any aftermarket oil additives is definitely NOT recommended.
Specifications
AMSOIL Synthetic 75W-90 Marine Gear Lube (AGM)

Kinematic Viscosity @ 100°C, cSt (ASTM D-445)
15.4
Kinematic Viscosity @ 40°C, cSt (ASTM D-445)
117.3
Viscosity Index (ASTM D-2270)
137
Flash Point °C (°F) (ASTM D-92)
208 (406)
Pour Point °C (°F) (ASTM D-97)
-43 (-45)
Falex Procedure B (ASTM D-3233) (failure load, LbF.)
2000
Foam Stability (ASTM D-892) (20/50/20 maximum)
0/0/0