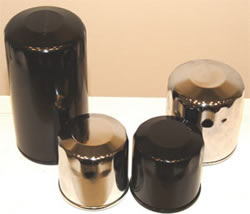 Protect your motorcycle engine with AMSOIL's ultra-efficient "Ea" oil filter technology. These full-synthetic oil filters deliver industry leading effectiveness with a rating of 98.7% at 20 microns. Sturdy construction and high-end components make this oil filter an instant upgrade for your ride. Available in black and many with optional chrome finish.
Buy AMSOIL Motorcycle Synthetic Oil Filters at wholesale in Canada and the United States. Request a price list using the form on your right.
Features and Benefits of AMSOIL Motorcycle Oil Filters
Fine particle removal ability and high holding capacity
Capable of extended drain intervals and compatible with the long service life of AMSOIL Synthetic Motorcycle Oil
Sturdy design and top-shelf components
Synthetic filter media allows for exceptional oil flow
Sturdy Design
AMSOIL EaOM Synthetic Motorcycle Oil Filters are built with numerous top-end components that allow these filters to remove small particles and stay in service for much longer than regular motorcycle oil filters.
High pressure filter housing
Full synthetic filter media
Silicone anti-drain-back valve
Nitrile seal gasket
Heavy-duty base plate
Applications
AMSOIL EaOM Synthetic Motorcycle Oil Filters are available for many motorcycles, ATV's, Side-by-Sides, as well as 4-cycle Personal Watercraft, snowmobiles and outboard engines.
Find the correct filter for your ride using Oildepot's Oil Filter Look-up Tool.
Service Life
Change your AMSOIL EaOM Synthetic Motorcycle Oil Filter at every oil change.
Hint: AMSOIL Synthetic Motorcycle Oils are capable of a service life of up to twice the oil change interval as suggested by your owner's manual or one full year (whichever comes first) in motorcycle engines, transmissions or primary chaincases.
Can AMSOIL Synthetic Motorcycle Oil Filters Be Used With Other Brands of Motorcycle Oil?
AMSOIL EaOM Synthetic Motorcycle Oil Filters can be used with any brand of conventional, semi-synthetic or synthetic motor oil.
We also offer Motorcycle Oil Filter Cap Wrenches