Oildepot Showcases AMSOIL Synthetic Snowmobile Oil for 2014
As snowmobile riders in Canada and the Northern United States prepare for the first snow fall, let's examine the AMSOIL products that Oildepot has to offer for the 2014 winter season. We submit that AMSOIL's collection of snowmobile products (for two or four-stroke machines) are the most cost-effective upgrades you can make to your snowmobile.
We offer wholesale options on AMSOIL products so that you can convert your snowmobile to synthetic oil at a great price. Feel free to request a price list using the form on your right.
AMSOIL Two-Stroke Oils for Snowmobiles
The biggest news for this year is the introduction of a brand new synthetic two-stroke oil that fills a niche for casual and economy-minded snowmobile owners. AMSOIL now offers three distinct two-stroke oils for snowmobile use. Let's analyze each and discuss where they fit.
The three different oils for two-stroke engines are:
New AMSOIL AIO Synthetic Two-Stroke Injector Oil
Those who have been familiar with AMSOIL two-stroke oils for a long time may recognize the "AIO" product code.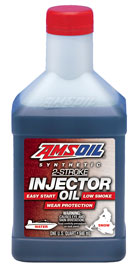 AMSOIL has previously used the AIO product code on a two-cycle injector oil that was discontinued back about 8 years ago. This brand new AIO two-stroke injector oil formula is a synthetic option for casual riders who may not be riding the very latest sled or are watching their wallets. AIO offers all of the attributes the you would expect from an AMSOIL synthetic 2-stroke oil:
clean, low-smoke operation
synthetic wear control and friction reduction
superb cold-flow properties
suitable for power valve-equipped engines
If you have a boat equipped with a two-stroke outboard engine, AIO Synthetic Two-Cycle Injector is ideal for summer marine use as well! AIO can be used in pre-mix or oil injection systems. Read more about new AIO in our article AMSOIL Releases New Synthetic 2-Stroke Injector Oil for Sleds or Boats.
Which AMSOIL Two-Stroke Oil is right for My Sled?
Recreational riders with stock (or close to stock) engines should consider either AIO or Interceptor. As mentioned, AIO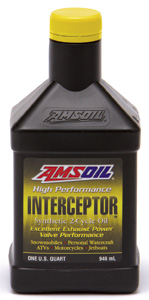 is for casual riders who may not be riding the latest sled and are minding their dollars.
Interceptor should be oil of choice for serious snowmobilers who want the ultimate wear control and exhaust power valve cleanliness. It is also suitable for the very latest two-stroke engines such as Ski-Doo E-TEC, Arctic Cat C-TEC2 or Polaris Liberty/Cleanfire. Interceptor will withstand the hardest recreational riding you can throw at it and has been the subject of many great reviews from our customers over the years.
So that leaves Dominator Synthetic 2-Stroke Racing Oil. Dominator is designed for highly modified or purely racing applications only. As its additive package is designed to burn at very high temperatures, engines in stock form (or close to it), may not effectively burn Dominator's additive package and excessive deposit formation could be the result. If you race or run a very modified sled on the ragged edge, Dominator will handle the extreme loads and high operating temps.
Read more: Should I use AMSOIL Interceptor or Dominator in My 2-Stroke Snowmobile?
AMSOIL Four-Stroke Snowmobile Oil
AMSOIL is also engaged as the snowmobile industry continues its steady evolution toward 4-stroke engine technology for 2014. AMSOIL offers a powerful synthetic four-cycle oil formula that can protect your investment and deliver maximum performance in your 4-stroke Yamaha, Ski-Doo, Arctic Cat or Polaris, including turbocharged snowmobile engines. The AMSOIL Formula 4-Stroke 0W-40 Synthetic Motor Oil boasts a cold-pour-point of -60F so your engine has reliable cold-start protection. On the flipside, this synthetic 0W-40 Power Sports Oil can withstand extreme heat and shearing, even from turbochargers. AFF 0W-40 contains a strong anti-rust package to protect your snowmobile engine during off-season storage. Formula 4-Stroke 0W-40 is also a superb ATV engine/transmission oil.
Synthetic Chaincase Oil
When replacing your chaincase oil, using a 100% synthetic product like AMSOIL Synthetic Chaincase Oil makes good sense. This synthetic chaincase lube does not gel or freeze up in arctic conditions, so you can take off in any weather. When things heat up, AMSOIL Chaincase Oil lowers friction which maximizes power delivery and keeps chaincase temperatures steady. Extreme pressure additives prevent metal-to-metal contact and anti-rust additives protect during the off-season. Best of all, this premium chaincase oil lube costs less than the sled-branded products.
For Ski-Doo owners, consider that the XPS-S Synthetic Chaincase Oil is definitely on the thicker side in terms of viscosity. If you would like to continue with a thicker chaincase lube, the official AMSOIL replacement product is Severe Gear Synthetic 75W-140 Gear Lube. Severe Gear 75W-140 offers all of the benefits of the AMSOIL Synthetic Chaincase Oil along with a -51F cold-pour point.
Synthetic Snowmobile Chassis Grease
A good snowmobile chassis grease must have the following qualities:
Resistance to water, ice, snow, and even mud
Extreme pressure additives to combat heavy impacts and wear
Ability to pump in cold weather
Staying power for long trips
AMSOIL Synthetic Water Resistant Grease meets all of those requirements and might very well be the world's perfect sled chassis grease. Synthetic Water Resistant Grease is available in regular 10 ounce cartridges or the convenient 3 ounce tube format.
Snowmobile Gasoline Additives
Snowmobile gasoline quality and fuel systems require more cause for concern that virtually any other application out there. Issues like octane level, ethanol content, moisture contamination and fuel degradation have to be monitored on a continual basis. AMSOIL offers gasoline additives to prevent fuel related issues and keep your engine running its best.
Quickshot prevents several potential problem areas relating to snowmobile fuel:
Neutralizes ethanol/moisture content
Detergents clean injectors, carbs, combustion chambers, spark plug electrodes
Stabilizes fuel during the season
Suitable for two or four-cycle engines
The economical Quickshot Gasoline Additive should be added to every batch of fuel for a trouble-free snowmobile season.
Snowmobile Octane Boost
Many snowmobiles require premium or high octane gasoline for proper operation. Unfortunately high octane gas isn't available everywhere, so many riders add an octane boost to keep their engines happy. Oildepot offers two octane boost options.
AMSOIL Motorcycle Octane Boost (for 4-stroke engines only) is ideal for snowmobiles on a couple of fronts. First, it comes in a convenient 118ml (4 USoz.) bottle size that is the perfect size to keep on-board and use when needed. Second, not only does it boost octane to keep knock sensors happy, it also contains detergents to clean fuel systems and combustion chambers. One bottle treats 4 to 6 US gallons (15 to 23 litres).
AMSOIL Dominator Octane Boost (for 2- or 4-stroke snowmobiles) Eliminates knock and improves combustion by raising octane levels. Dominator Octane Boost's 12 ounce (384ml) bottle treats up to 15 US gallons (57 litres) of gasoline
Snowmobile Gasoline Stabilizer
When it's time to park your snowmobile in the spring, stabilizing the gasoline is an absolute must. This job requires serious chemistry and AMSOIL Gasoline Stabilizer delivers a potent formula that keeps gasoline fresh and fuel system passages clear for sure-starts next winter.