New Greases, Motorcycle Octane & H-D Oil Filters From AMSOIL
The folks at AMSOIL never seem to sleep.  There seems to constant stream of product upgrades and introductions of totally new offerings. Recently they released a number of interesting new products.
Grease Reformulations and New Grease Gun Kit
AMSOIL made some complete formulation makeovers to two of their most popular synthetic greases. The AMSOIL Synthetic Multi-Purpose Grease and the Synthetic Water Resistant Grease now use calcium sulfonate complex thickeners rather than lithium complex thickeners. This bolsters their extreme pressure capabilities, water resistance and high temp stability. The former formulations were bullet-proof, so these greases should now be real world-beaters.
AMSOIL has also released a convenient new Grease Gun Kit. This new kit contains a grease gun and a 3-oz. cartridge of the new Synthetic Multi-Purpose Grease. The compact 3-oz. size makes this kit handy for travel or home tool box. Both the new Synthetic Multi-Purpose Grease and Synthetic Water Resistant Grease are now available in the 3-oz tube replacement size.
New Product: Motorcycle Octane Boost
This new Motorcycle Octane Boost uses a two pronged approach at improving motorcycle performance. First it increases the octane level of gasoline to eliminate pinging and knocking. It also cleans fuel injectors, carbs and combustion chambers to further optimize performance. The result is maximum power delivery. It comes in a convenient 4-oz. bottle for riders on the go.
Unfortunately this product is not for sale in Canada at this time. Canadian riders can use AMSOIL Dominator Octane Boost. Dominator Octane Boost does not offer the cleaning benefit of the Motorcycle Octane Boost, but it does deliver a similar octane performance boost.
To clear up any confusion between the two products, you may note that AMSOIL claims a 3 point octane gain from the new Motorcycle Octane Boost, while they claim up to 7 points from the Dominator Octane Boost. AMSOIL Technical Services has told us that the products are measured on a different scale and that the actual octane increase is very similar with both products. The Motorcycle Octane Boost is measured on the Research Octane Number (RON) scale and we suspect that the literature on the Dominator product will soon show its number measured on this scale as well.
New Product: Ea Heavy-Duty Extended-Life Oil Filters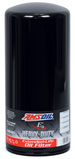 AMSOIL Ea Oil Filters have been a a tremendous success in automotive and motorcycle applications and now they have brought this technology to the heavy-duty market with AMSOIL Ea Heavy-Duty Extended-Life Oil Filters. As with it's smaller brethren, the full synthetic Ea filter media delivers filtering efficiency of 98.7 percent at 20 microns, making these filters a truly elite product. The filtering efficiency of conventional filters is in the 40 to 80 percent range at 20 microns.
Another advantage of Ea oil filters is increased capacity and long service life. They can remain in service for the "maximum drain interval recommendations of AMSOIL synthetic motor oils (not to exceed one year)".
Another hallmark of Ea oil filters is their sturdy construction and uncompromising use of premium components. Adding this to the outstanding filtering efficiency and extended service makes these filters greater than the sum of their parts and certainly a great value for the price.
AMSOIL Ea Heavy-Duty Extended-Life Oil Filters are available for over-the-road trucks, dump trucks, buses, farm equipment, mining, construction/industrial equipment and more.