Can I Use AMSOIL Metric 10W-40 in Dirt Bike and ATV?
Can AMSOIL's motorcycle and ATV oils be used in other categories?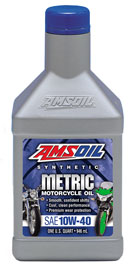 A reader asks: I'm using AMSOIL Metric 10W-40 Synthetic Motorcycle Oil in my Honda CBR600RR. We've also got a dirt bike and ATV that call for 10W-40. Can I use Metric 10W-40 in these bikes as well?
Answer: Absolutely. AMSOIL Metric 10W-40 is quite capable in dirt bike or ATV engines and transmissions. Until recently, the "MCF" Metric 10W-40 formula was AMSOIL's only 10W-40 option for dirt bikes, street bikes and ATV's. Note that it was used quite successfully in professional racing (both road racing and motocross).
AMSOIL released the off-road-specific Dirt Bike Synthetic 10W-40 earlier this year and its main attribute is the ability to combat clutch fade and slippage under extreme loads. The Metric 10W-40 Motorcycle Oil will provide superb service in dirt bikes, but the Dirt Bike formula is a bit of an upgrade for racing or extreme off-road operating conditions.
As for ATV's, AMSOIL also released an ATV Synthetic Oil Series earlier this year (including a 10W-40). It too is formulated for severe off-road conditions. Metric 10W-40 would certainly provide commendable performance and protection and would be an upgrade over other ATV oil brands.
All this being said, the ATV 10W-40 or Dirt Bike 10W-40 can also admirably replace Metric 10W-40 in your street bike. The common thread of all of these products is that they are suitable for wet-clutch service and have an elite synthetic composition. Suppose that you need the robust staying power of the Dirt Bike formula for a motocross bike, but you also have a street bike and ATV and want to keep only one product around for convenience. You could easily use Dirt Bike 10W-40 in the street bike and ATV and the same could be said of the ATV 10W-40.
The bottom line is that all of these products are formulated to provide great performance in their respective category, but all of these applications require an engine oil with similar performance characteristics. So one product can be used in street bikes, ATV's and dirt bikes, provided that they all call for the same viscosity.