AMSOIL Synthetic ATF Undergoes Independent Testing
AMSOIL's Synthetic Automatic Transmission Fluid products are in the news. They are receiving a name change, AMSOIL has released some third-party test results and the specification list has been updated.
AMSOIL Synthetic ATF Name Change
Both the Multi-Vehicle ATF and Fuel Efficient ATF have been rolled into the Signature Series family. They are now called Signature Series Multi-Vehicle Synthetic ATF and Signature Series Fuel Efficient Synthetic ATF. The Signature Series moniker is given only to AMSOIL's best, so this change emphasizes the elite quality of these two products. Along with the new names, come new labels and a new look. The formulations are unchanged.
Independent, Third-Party ATF Testing
AMSOIL commissioned independent testing on the Signature Series Multi-Vehicle Synthetic ATF under real-world conditions. The ATF was put through the its paces in Las Vegas taxi cabs. As you can imagine, Las Vegas cabs endure continuous stop-and-go conditions in extreme desert heat.
After 100,000 miles of taxi service, used AMSOIL Synthetic ATF samples were tested using the Aluminum Beaker Oxidation Test (ABOT). This test determines an ATF's ability to resist oxidation. To meet the Chrysler ATF+4 specification, a new fluid must be able to resist oxidation after 500 hours of ABOT testing. As seen in the chart below, the AMSOIL Signature Series Multi-Vehicle Synthetic ATF that had been USED for 100,000 miles in a Las Vegas cab not only passed the ABOT test at 500 hours, but had another 300 hours in reserve over and above that threshold!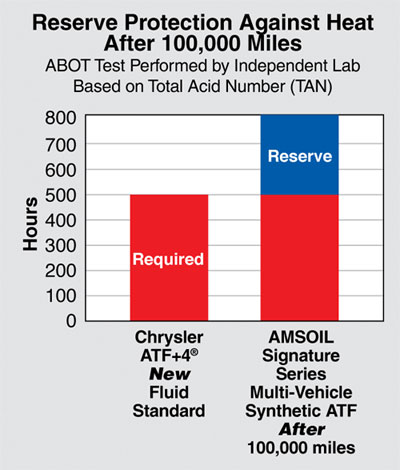 Suffice it to say, AMSOIL Synthetic ATF's are engineered to protect your automatic transmission from extreme heat, heavy towing and harsh conditions. A transmission oil change is performed infrequently, so why not use a fluid that will perform and protect with no compromises?
Specification Updates
AMSOIL ATF's are now recommended for the following specifications:
AMSOIL Signature Series Multi-Vehicle Synthetic ATF (ATF)

GM DEXRON® III
Ford MERCON® & MERCON V, ESP-M2C166-H
Chrysler ATF+4®, MOPAR® AS68RC
Toyota Type T-III & T-IV
Honda Z-1 (Not CVT)
Hyundai SP II & III
Mazda ATF-M, ATF-III, ATF-MV
Subaru ATF, ATF-HP
Nissan Matic D, J & K
Mitsubishi SP II & III
Kia SP II & III, ATF Red-1
Volkswagen  G 052 162, G 052 990, G 055 025
Suzuki 3314 & 3317
BMW 7045E, LA 2634, LT 71141
Audi G 052 162, G 052 990, G 055 025
Volvo 97340, 97341
Mercedes Benz 236.1, 236.2, 236.3, 236.5, 236.6, 236.7, 236.9, 236.10, 236.11, 236.81
Man 339F, 339 V1, 339 V2, 339 Z1, Z2 & Z3
JWS 3309, 3314, 3317
Idemitsu K-17
Shell 3403, LA 2634
Texaco ETL-7045E, ETL- 8072B, N402
Voith 55.6335.XX (G607), 55.6336.XX (G1363)
Allison C-4, TES 389
ZF TE-ML 03D, 04D, 09, 14A, 14B, 14C, 16L, 17C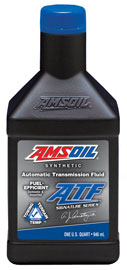 AMSOIL Signature Series Fuel Efficient Synthetic ATF (ATL)

Ford MERCON® LV, SP
GM DEXRON® VI
Toyota WS
Honda DW-1®
Nissan Matic-S
Hyundai/Kia SP-IV
Mitsubishi SP-IV, ATF J2
Volkswagen G 055 005, G 055 162, G 060 162
Audi G 055 005, G 055 162, G 060 162
BMW 83 22 0 142 516, 83 22 2 152 426
Saab 93 165 147
JWS 3324
Shell M-1375.4, M-1375.5, M-1375.6, M-L 12108
Here is the complete AMSOIL Synthetic Transmission Oil line.