AMSOIL Releases New Synthetic 2-Stroke Injector Oil for Sleds or Boats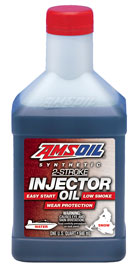 AMSOIL has added a brand new product to their family of synthetic 2-stroke oils. The new AMSOIL Synthetic Two-Stroke Injector Oil (product code: AIO) is designed to meet a couple of objectives.
1. Versatility: New "AIO" Synthetic Injector Oil is suitable for snowmobile, outboard or personal watercraft usage. Customers who have both winter and summer two-stroke toys can keep a single oil on hand for both. AIO is suitable for applications requiring the API-TC and NMMA TC-W3 specifications and can be used for oil injection systems or premix.
2. The Price is Right: AIO Synthetic Injector Oil is less expensive than AMSOIL's elite Interceptor or HP Marine synthetic 2-stroke products, so it may appeal to cost-conscious or casual two-stroke owners.
Who Should NOT Use New AMSOIL Synthetic Two-Stroke Injector Oil?
It's not often that we say "this product isn't for you", but as AMSOIL's Two-Stroke Oil line is now up to five specialized products, there are specific applications where we can point you to the correct oil.
Snowmobiles with engines such as the Ski-Doo/Rotax E-TEC and Arctic Cat C-TEC2 should use AMSOIL INTERCEPTOR Synthetic 2-Stroke Oil. These are very sophisticated engines that use very little oil and require Interceptor's premium formula.
Outboards that use the "Evinrude E-TEC factory lean setting" should upgrade to AMSOIL HP Marine Synthetic 2-Stroke Oil. Again this is a very sophisticated engine that functions under harsh operating conditions and requires HP Marine's premium formula.
Enthusiasts that log major miles on the snow or the water may appreciate the upgrade to Interceptor (snow) and HP Marine (outboard).
That is not to suggest that this new oil is a lightweight. Everyone else is perfectly fine with new AIO Synthetic Oil. There are simply some particular situations that require an upgrade to HP Marine or Interceptor. AIO Injector is a full-synthetic oil that will deliver the following benefits:
Clean operation including snowmobile power valves and prevention of outboard engine deposits
Low smoke/odor
Improved power delivery
Great performance in extreme cold or heat
Excellent wear control
Can a 2-Stroke Oil be Deemed as Both TC-W3 and API TC?
In other words, can a 2-stroke oil be suitable for both dry land and outboard usage? There is an old falsehood suggesting that a single two-stroke oil cannot be suggested or used for both API-TC (snow) and NMMA TC-W3 (outboard) applications. That may have been the case in the old days of smoky conventional 2-cycle oils. Today's synthetic two-stroke oils offer film strength, clean operation and wear control that regular 2-stroke oil from yesteryear can't even begin to rival. Modern synthetics like new AIO Injector Oil have the ability to function equally on the coldest morning of winter or the hottest day of the summer. AIO will burn cleanly under heavy loads such as a snowmobile in deep powder or the cooler operating temperatures of an outboard engine tooling around the lake. Simply put, an accurately designed synthetic oil like AIO Injector can excel under an extremely wide range of operating conditions.
Where to Buy New AMSOIL AIO Synthetic 2-Stroke Injector Oil?
We can offer this versatile new two-cycle at the lowest price in Canada or the United States and have it shipped right to your door. Request a wholesale price list using the contact form at the top of the page.
If you have questions regarding which AMSOIL Two-Stroke Oil is suitable for your toys, feel free to drop us a note using the contact form and we will be happy to help.