AMSOIL Releases New 20W-40 Synthetic For Motorcycles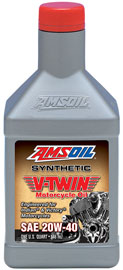 AMSOIL has been diligently expanding their motorcycle oil product line this winter and the latest offering is a synthetic 20W-40. New AMSOIL Synthetic 20W-40 V-Twin Motorcycle Oil is specific mostly to Victory and late-model Indian motorcycles.
All Victory motorcycles and Indians (produced after the 2013 model year) have a common sump, meaning that the engine and transmission share the same oil. AMSOIL's previous oil recommendation for these motorcycles was their 10W-40 Synthetic Motorcycle Oil.
Frequently Asked Questions About New AMSOIL 20W-40 Synthetic Motorcycle Oil
Question: How can a full-synthetic 20W-40 benefit my motorcycle?
Answer: AMSOIL synthetic motorcycle oils are very popular because of the following benefits:
Smoother performance
Easier, quieter shifting
Noticeably cooler operation
Industry-leading engine and transmission wear protection
Reduced oil usage
Capable of staying in service for twice as long as regular 20W-40 motorcycle oils
Exceptional off-season rust and corrosion protection
Question: I have a bunch of AMSOIL 10W-40 Motorcycle Oil leftover for my Victory motorcycle. Am I better off buying this new 20W-40 instead?
Answer: Using the 10W-40 in a motorcycle that calls for 20W-40 is perfectly fine. Remember that the viscosity of 10W-40 and 20W-40 is identical at operating temperature. The bottom line is that there will be zero compromises in terms of wear control when using a 10W-40 instead of a 20W-40. Use up the 10W-40 and worry not.
Question: Can this full synthetic 20W-40 cause clutch slippage problems?
Answer: Absolutely not. Synthetic oils formulated for motorcycle usage do not cause wet-clutch problems. This has been irrefutably proven. Case in point, virtually all motorcycle racers use synthetic oils these days and they torture their clutches beyond imagination. They also need to finish races and cannot afford any power loss due to clutch slippage. AMSOIL synthetic motorcycles oils actually provide cooler operation, which promotes LONGER clutch life!
Question: Where do I buy AMSOIL Synthetic 20W-40 V-Twin Motorcycle Oil?
Answer: We can offer this new 20W-40 motorcycle oil at wholesale in Canada and the United States. We ship right to your door in just a day or two. Contact us for prices using the form on your upper right or call us at 1-800-748-5781.