AMSOIL Releases 5W-40 ATV/UTV Motor Oil For Can-Am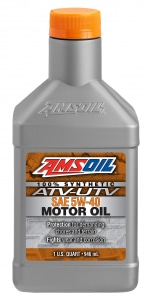 AMSOIL has released a brand-new ATV/UTV oil for Can-Am and Kawasaki 4-stroke models. The new AMSOIL Synthetic 5W-40 ATV/UTV Motor Oil is a professional grade-oil for any ATV, UTV and Side By Side model requiring a 5W-40 motor oil.
Where To Buy AMSOIL Synthetic 5W-40 ATV/UTV Motor Oil?
Oildepot can sell this ATV/UTV 5W-40 in the United States or Canada. Contact us for a wholesale price list using the form on this page or call us at 1-800-748-5781.
About AMSOIL Synthetic 5W-40 ATV/UTV Oil
Many Can-am and Kawasaki off-road vehicles require a 5W-40 engine oil. AMSOIL has developed an elite product to cover this viscosity. Here are the highlights.
A 100% synthetic engine oil
Withstands hot operating temperatures and heavy loads
Turbocharger compatible
Pours down to -51°F
Designed to resist internal rust and corrosion
Wet-clutch compatible
Can-Am And Kawasaki Oils Replaced By New AMSOIL ATV/UTV 5W-40
AMSOIL Synthetic 5W-40 ATV/UTV Motor Oil is an outstanding replacement for the following OEM ATV/UTV engine oils from Can-Am and Kawasaki.
BRP XPS 4T Synthetic-Blend 4T 5W-40
Kawasaki Semi-Synthetic 5W-40 ATV/UTV Oil
Kawasaki KPO Full-Synthetic 5W-40 ATV/UTV Oil
Can-Am And Kawasaki ATV and UTV Models Compatible With AMSOIL ATV/UTV 5W-40
Can-Am ATV Models
DS70, 90, 250, 450
Outlander 400, 450, 500, 570, 650, 850, 1000
Renegade 500, 570, 800, 850, 1000
Can-Am UTV Models
Commander 700, 800, 1000
Defender HD5, HD8, HD10
Maverick 700, 1000 (including turbo models)
Traxter HD5, HD8, HD10
Kawasaki ATV Models
KFX 50, 90
KSF 90
KFX 450R
Bayou 250
Brute Force 300, 750
Prairie 360
Kawasaki UTV Models
Mule 400, 600, 610, 4010
Mule Pro FX, FXR, FXT (gasoline engines only)
Teryx, Teryx4
Will This New ATV/UTV 5W-40 Be Included In Oil Change Kits?
AMSOIL offers complete oil change kits for several Can-Am ATV and Side By Side models. These kits currently contain AMSOIL Formula 4-Stroke Powersports Synthetic 0W-40. We expect that AMSOIL will eventually switch these kits over to this new 5W-40.
In the meantime, should one be hesitant to use the 0W-40 when a 5W-40 is available? Absolutely no problem. Remember, they are both 40-weight oils at operating temperatures. The Formula 4-Stroke Powersports 0W-40 has legendary shear stability. Therefore, there is zero compromise in terms of protection when using the AMSOIL 0W-40 option.