A 100:1 Oil For Yamaha 2-Stroke Outboard Motor?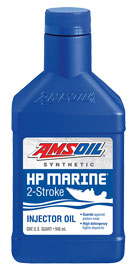 A readers asks: I've got a 2009 Yamaha 20MLHH 2-stroke, 20 horsepower outboard engine. Yamaha recommends a 100:1 mix ratio. I see that AMSOIL HP Marine has a recommended premix ratio of 50:1. I feel that this ratio is too rich for this engine. Is there any way I can get the 100:1 AMSOIL Saber Outboard Oil in Canada? 
Our answer: Your Yamaha outboard engine can easily use AMSOIL HP Marine at 100:1. It can replace the OEM Yamalube 2M TC-W3 2-stroke oil (with less exhaust smoke). It is true that Saber Outboard Premix Oil is no longer offered in Canada. However, HP Marine is certainly not a downgrade for your engine.
While HP Marine has a suggested mix ratio of 50:1 on the label, it is no stranger to ultra-lean mix ratios. HP Marine has been heavily tested in Evinrude E-TEC engines at the "lean-mix" setting. This is the equivalent of an approximate 100:1 ratio. AMSOIL's extensive testing under extreme loads at this lean-mix setting proves that it delivers outstanding wear protection.
Yamalube 2M TC-W3 2-stroke oil is only a partial-synthetic product. HP Marine is a 100% synthetic formula that offers the very latest two-stroke marine oil technology. Therefore, we would rate it as a considerable step up over the Yamalube product.
Features Of AMSOIL HP Marine
Low-smoke and odor
Robust synthetic wear protection
Resists carbon build-up
Provides excellent throttle response
Low aquatic toxicity
Protects against internal anti-rust and corrosion
For premix or oil-injected marine two-cycle engines
For US customers that have access to Saber Outboard, it is also an excellent choice for Yamaha outboards requiring a 100:1 premix ratio.
If you have questions or would like to request prices, contact us using the form on this page or call us at 1-800-748-5781.